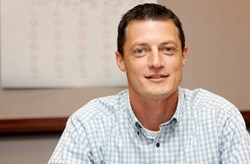 Bristol, CT (PRWEB) August 29, 2013
Conveyco, an integrator of Automated Material Handling Systems and Design Build Solutions, announces a new addition to its team, Ryan Petrie, Account Executive.
Ryan brings over 20 years of experience in the material handling industry to Conveyco. He has worked in many different disciplines including applications engineering, system sales, and customer service. Ryan brings expertise in selling and engineering solutions utilizing a broad range of technologies including: Conveyance, Sortation Systems, Carousels, Automated Storage and Retrieval Systems (AS/RS), Robotics, and a wide range of software solutions (including WCS/WMS).
When asked why he joined the Conveyco team, Ryan replied, "I chose to partner with Conveyco because of the company's unique and established presence in the market. Conveyco is an organization that has the robust resources required to design and implement large scale automated solutions for its customers yet remains nimble enough to quickly respond to new opportunities and provide service to their clients with a personal touch."
"We are elated to have Ryan on our team," said Raymond Cocozza, President of Conveyco. "His experience, reputation within our industry, relationships, and client centric approach to Solution Selling is what solidified our decision to extend an offer to him to join our team. In addition to the aforementioned professional qualities, Ryan is also active in his community and a committed husband and father, which fits the Conveyco culture perfectly."
Ryan makes his home in Kentucky with his wife and four children. He will focus on expanding Conveyco's presence in the mid-western United States and servicing accounts nationally. He can be reached at rpetrie(at)conveyco(dot)com
Are you are interested in joining the Conveyco team? If so, please email your resume to jobs(at)conveyco(dot)com.
Conveyco (http://www.conveyco.com), a material handling systems integrator, with a team of best-in-class engineering talent, works closely with its supply chain clients to design original, reliable, street-smart solutions that help them overcome their toughest challenges in the movement, storage, control and protection of materials and goods throughout their manufacturing and distribution operations. From problem definition to implementation, Conveyco's collaborative work ethic enables its clients to achieve their goals for enhanced profitability and to compete more successfully within their industries.