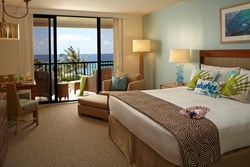 Kahuku, Hawaii (PRWEB) August 30, 2013
Turtle Bay Resort on Oahu's Fabled North Shore is ushering in a new era of North Shore hospitality with the fall season completion of its multi-million-dollar renovation. It's an important milestone in an extensive re-branding campaign launched in 2011 that focuses on creating authentic, once-in-a-lifetime experiences found only on the North Shore. Key components include:

"Epic" rooms -- and we don't use that word lightly. All 410 main building guest rooms and hallways have been upgraded with a redesign of fixtures, furnishings, bedding and décor, as well as completely remodeled bathrooms with touches like new tile, vanities, and walk-in showers. We borrowed contemporary and classic styles from Hawaiian homes, so we know you'll feel right at home too. And, every room offers ocean views. Room rates start at $319.
Local foods, served up like never before. The new North Shore Kula Grille and Pa'akai restaurants keep pace with appetites hungry for Hawaiian flavors, especially when that means seafood, meats and produce sourced from local farms and waters. It doesn't get any fresher than Kauai shrimp, Kona lobster salad and short rib Hawaiian beef hot pot, just to name a few. The chef will even prepare and serve fresh poke (cubed ahi seasoned with soy sauce and other ingredients) tableside.
North Shore experiences call for a spa that can keep up, so we launched Nalu Kinetic Spa, a first-of-its-kind health and wellness center. This full-service, 11,000-square-foot spa features a movement studio; a fitness center with expansive ocean views; an array of innovative and traditional treatments; and organic products.
Living the North Shore lifestyle means looking the part, too. Turtle Bay is now home to two coastal lifestyle retail outlets, The Watershed and Oakley at Turtle Bay. We have also opened an exclusive media center by GoPro, bringing you the latest cameras and accessories – because you'll want to show everyone what you've been up to.
Surfer, The Bar brings surfing's legends and their tall but true tales directly to you. The resort's innovative Talk Story series will begin its next six week block on Sept. 4 and feature Talk Story + Film.
Explore the North Shore, local style. The recent launch of the North Shore Guides Club continues Turtle Bay's renewed focus on authentic North Shore experiences. Get access to the inaccessible and see through the eyes of a local with the help of experienced guides in everything from hanging ten to hitting a hole in one.
So come say aloha to a revitalized Turtle Bay Resort, and enjoy a new outlook on your favorite getaway. For reservations, visit TurtleBayResort.com.
About Turtle Bay: There's one North Shore on Oahu. And there's one resort on it. Ideal for watermen, wave watchers or waders, Turtle Bay is at the epicenter of set after set of activities, events and adventures. Complete with the finest accommodations and amenities suited for the entire family, Turtle Bay is where the "7-Mile Miracle" begins and the lineup is endless. To stay up to date on the Turtle Bay surfing experience, check out TurtleBaySurf.com.