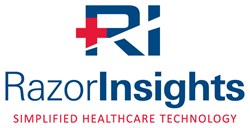 Kennesaw, Georgia (PRWEB) August 29, 2013
RazorInsights, a leading provider of healthcare information technology solutions for rural, critical access and community hospitals, announced today the company is attending the 15th Annual HIS Pros Buyer's Seminar being held at the Holiday Inn Express-O'Hare in Rosemont, IL on October 23-24, 2013. Rosemont is located immediately northwest of Chicago.
"We're thrilled to be attending this seminar; many of the healthcare providers attending this show are unsatisfied with their current legacy EHR and HIS systems, and are also worried that their current vendor will not enable them to meet future stages of Meaningful Use," explained Larry Mancini, Regional Director of Sales for RazorInsights. "ONE-Enterprise HIS Solution removes operational silos and streamlines the clinical and financial management processes. Using one single database, an intuitive and consistent user interface and a secure cloud connection, RazorInsights is taking rural healthcare to a new level," Mancini added.
In addition to having a booth within the vendor section, RazorInsights will give a 30-minute presentation explaining how ONE Enterprise HIS Solution is helping hospitals, and healthcare providers in general, transition to a more efficient and safer clinical environment, as well as helping them achieve Meaningful Use. All of RazorInsights' client hospitals have met—or are in the process of meeting—their various stages of MU requirements.
ONE, an ONC-certified solution, provides hospitals with a truly integrated, non-modular EHR residing on a single integrated database. Its robust financial and clinical capabilities, along with a fast and agile implementation process, make RazorInsights the perfect choice for rural, community and CAH hospitals.
About RazorInsights:
Based in Kennesaw, Georgia (in the metro Atlanta area), RazorInsights is a new, dynamic healthcare information technology company. In keeping with the principle of Occam's Razor, the company has created a simplified HIS solution for rural and critical access hospitals - ONE (ONC-ATCB 2011/2012), a single-database cloud solution offering a simple user experience with cutting-edge clinical tools and industry-standardized data. Hospitals can expect to improve their performance and bottom line with ONE from RazorInsights. For more information, visit razorinsights.com or call 770-308-4111.