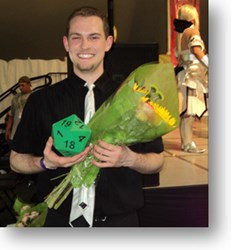 Piscataway, New Jersey (PRWEB) August 29, 2013
The Geek Creation Show:
Making Geek Lives Better...For Science!
August 28, 2013: Despite breakthroughs in "geek" arenas, such as the recent success of the Avengers films and the growth of Comic-Cons, it can be rough for geeks to find a place where they feel completely, totally comfortable being themselves - a sense of "home," if you will. While geek culture is on the rise and events dealing with specific fandoms abound, there had yet to be an all-encompassing, daily geek living convention dedicated to improving and expanding all areas of geek life - from geeky ways to decorate a whole house or apartment, to superhero training against the impending zombie invasion, to which mead pairs best with bacon.
The Geek Creation Show is an unusual event which seeks to help create a new way of life for people who self-identify as geeks or nerds. The event features a weekend of workshops, created specifically for and by geeks, to share ideas on how to improve their day-to-day worlds through the power of Geek Culture. Unlike an ordinary scifi con or panel event, Geek Creation offers tips and tricks on how to enhance the geek lifestyle as a whole, While it incorporates a vast variety of traditional Geek interests, from Dr. Who, to the Lord of the Rings, to Star Trek, Gaming, and other Geek staples, the event is unique in its goal of encompassing all elements of daily – health, food, socializing, geek skills and hobbies, even geek parenting.
In addition to being passionate about geek life, the Geek Creation Show is dedicated to building a better future for younger generations as well. The event is a benefit for The Tesla Science Center at Wardenclyffe, which is transforming the resting place of Nikola Tesla's last existing laboratory into a museum and technology center. The Center aims to be a force for educating people on the power of science and technology. It also showcases the power one man or woman can have on a field of study.
As a charity show, Geek Creation Show is not focused on profit; it is run for geeks, by geeks, to try to create a new kind of place where they can share ideas, discover new things, meet new geeks, and enrich their day-to-day lives. The people behind the Geek Creation Show run many events dedicated to various subsets of geekdom and are dedicated to the geek lifestyle; they run the world's largest event in that whimsical Victorian genre, Steampunk, as well as a unique indoor Renfaire – "The Wicked Winter Renaissance Faire".
The Geek Creation Show will run November 15th-17th at the Radisson of Piscataway, New Jersey.