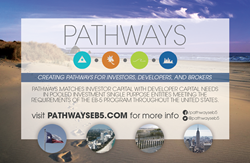 Jeff Campion, CEO for Pathways commented, "EB-5 is a win/win on every side. Pathways is able to deliver less expensive capital to developers than the traditional market. Jobs are created, and investors obtain their green card. So, all parties benefit."
Weston Florida (PRWEB) August 30, 2013
Pathways EB-5, Inc. ("Pathways") announced today that it has officially launched its business platform. Its purpose is to create pathways for investors, developers, and brokers in the EB-5 space matching investor capital with developer capital needs. It accomplishes this through its strategic alliances with regional centers throughout the US. The EB-5 program requires that investors invest at least $500,000 and create ten (10) full time U.S. worker jobs from the investment.
Company officials are meeting with Migration Brokers this October in China to discuss projects and opportunities in the EB5 arena. Pathways officials expect this trip to improve investor confidence and widen its customer base.