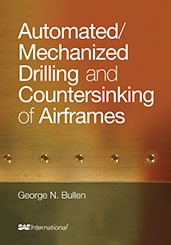 A book from SAE International examines the automation of this process and the impact it has on production.
Warrendale, PA (PRWEB) August 28, 2013
Modern aircraft manufacturing involves drilling and countersinking hundreds of thousands to millions of holes. A book from SAE International examines the automation of this process and the impact it has on production. "Automated/Mechanized Drilling and Countersinking of Airframes" focuses on automating the process of drilling and countersinking holes during airframe manufacturing. Since this is the area of greatest return on investment for airframe producers, the book provides a stepped approach for evaluating possible areas for applying automation and a detailed description of the process for choosing, acquiring, and transitioning the right machinery for success. It also provides a vision for a 10- to 15-year future state of airframe manufacture.
The book will help readers:

Understand the evolution of automated/mechanized drilling and countersinking airframes.
Access decision models and matrices to help evaluate the feasibility of applying automation/mechanization to any airframe.
Gain access to a step-by-step procedure to select the right piece of machinery.
Learn the necessary processes for testing and transitioning machinery to production.
Assess and acquire data to evaluate the effect of the process.
Choose and train the right individuals to manage and run the machinery.
Conduct cost benefit analysis models.
Make recommendations for maintenance and spares.
Address socio-economic factors to reconfigure a facility from hand to automated activities.
Author George N. Bullen is the president and CEO of Smart Blades, Inc., and founder of the International Aerospace Automation Consortium. He holds numerous patents for technology innovations related to manufacturing, mechanization, robotics, robotics control software, and nuclear testing/quality devices that are the basis for all current automated systems used for the assembly of airframes in the United States and Europe. His expertise includes inhabited and uninhabited aerial vehicles, space vehicle design and manufacture, laser weapon system design and manufacture, and lean processes and applications. He is widely published in magazines, proceedings, journals and peer review journals. Mr. Bullen has an MBA from Loyola Marymount University, a BSMG from Pepperdine University, an ASBA from Mesa College, and is finishing his PhD in decision sciences, engineering research.
Book Details:
Published By: SAE International
Published: May 2013
Pages: 316
Binding: Hardbound
Product Code: R-416
ISBN: 978-0-7680-7646-2
Price: $99.00 List, $88.00-$99.00 SAE International Member
For more information, including free front and back matter, or to order "Automated/Mechanized Drilling and Countersinking of Airframes," visit: http://books.sae.org/book-r-416/.
To request an electronic review copy of the book, email pr(at)sae(dot)org. Forward published reviews to Shawn Andreassi at pr@sae.org or SAE International, 400 Commonwealth Dr., Warrendale PA, 15096-0001, to receive a print copy of the book or another equivalent SAE International book.
SAE International is a global association committed to being the ultimate knowledge source for the engineering profession. By uniting over 138,000 engineers and technical experts, we drive knowledge and expertise across a broad spectrum of industries. We act on two priorities: encouraging a lifetime of learning for mobility engineering professionals and setting the standards for industry engineering. We strive for a better world through the work of our charitable arm, the SAE Foundation, which helps fund programs like A World in Motion® and the Collegiate Design Series™.