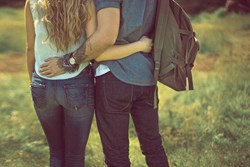 PORTLAND, Ore. (PRWEB) August 29, 2013
After completing a resoundingly successful Kickstarter Campaign in July, Bluer Denim, the American premium denim brand, debuts its first collection today at http://www.bluerdenim.com. The brand announces the launch of true premium, world class, 100% transparently sourced, American made jeans and denim products at previously impossible prices by being sold directly to consumers online, targeting the 18 to 24 year old male and female demographic. In addition, Bluer will introduce its Buy One, Give One philanthropic program of next generation corporate responsibility. Finally, a denim industry first – Home Try-On service will be added in the fall. Bluer's business model is revolutionary in the denim world.
Bluer sought start-up funding, public relations exposure and early adopters via a Kickstarter campaign launched in June of this year. In only one month, Bluer surpassed their goal by 250%. With that foundation, Bluer has fulfilled its first production run of limited edition jeans, jackets, shirts, and accessories for backers, as well as funding the new website launching today.
Transparently 100% Made In America
Bluer takes the concept of Made In U.S.A. very seriously. Designed in Portland, Oregon all materials used to make Bluer jeans have been entirely sourced in the United States. Unlike many 'Made in the USA' brands, the materials used by Bluer have never left American soil. The collection features cotton grown in Georgia, Cone White Oak denim milled in North Carolina, and buttons, rivets and zippers forged in Kentucky. Using environmentally friendly ozone laundry processes, each piece is cut, sewn, washed and hand-finished in Los Angeles.
Impossible Pricing
Bluer jeans will start at a retail price of just $98, which is approximately one half the price of comparable products sold through the traditional wholesale/retail model, many of which are made overseas using lesser quality materials and trims, that also create a much larger environmental footprint.
"We constantly see other brands claiming to be premium, but Bluer is actually genuine premium 100% USA made denim, in every sense of the word," said Founder Jeff Shafer.
Buy One, Give One Philanthropic Goal
Bluer believes re-purposing & recycling beats everything in the world of sustainability. Therefore, Bluer is introducing a revolutionary program to get unwanted jeans out of its customers' closets and into the hands of those in need. For every pair of jeans a customer purchases from the Bluer website, Bluer will buy back a used pair from them for $5. Bluer will subsequently sanitize, repair and deliver the jeans to someone who really needs them. While this will cost Bluer around 10% of sales, it is, according to Shafer, the most important element to him.
"I'll consider The Bluer Denim project a failure if Bluer is financially successful but our Buy-One, Give-One program is not adopted by our customers." Jeff Shafer.
Home Try-On For Free
Home Try-On service will be introduced this holiday season, creating an unparalleled buying experience in the denim industry. Customers will be able to try on jeans in their own home at no cost whatsoever. Bluer will ship the selected jeans and the customer will have 14 days to ship back unwanted pairs in the prepaid box. Bluer customers will only pay for what they keep. Home Try-On is completely free with no upfront fees or shipping costs. A straight purchase option will be offered from launch.
Brand Values
As a brand value, Bluer is striving to adhere to ethical business practices that include the aforementioned provision of recycled and repurposed denim to people in need, as well as strict corporate responsibility, transparent sourcing and a reduced environmental impact.
The combination of all of Bluer's brand attributes has never been seen in the industry before. Bluer intends to set a new bar for ethical, sustainable and successful business. Rather than keep this formula a secret for fear of emulation, Shafer plans on sharing the business model with as many new entrepreneurs as possible so that it may be adopted across multiple industries, thus building the momentum of the movement, and providing a conducive environment for the next generation of home grown manufacturers and creative innovators.
"Bluer is not just a new denim label—it's a passion project for us with a point of difference that puts positive change, customer experience and corporate responsibility central to our model, not just as after thoughts. We are hoping to transform the way people buy jeans forever." Jeff Shafer.
About Bluer
Bluer is a denim brand working to revolutionize the denim buying process through quality, convenience, value, social responsibility, personalization, exploration, and entertainment. By introducing transparent sourcing, home try-on, buy one give one and true premium selvage to the denim industry, Bluer is pioneering a movement in denim and apparel. The Bluer team has decades of experience in the global denim industry at the highest level, with brands like Levi's, BC Ethic, Diesel, Agave, Rock & Republic, Rag & Bone and Citizens of Humanity.
About JEFF SHAFER
Shafer is a West Cost denim industry pioneer and veteran. Born in Santa Monica, CA, and having grown up surfing the breaks at Topanga and Malibu, Shafer studied business and economics before being drawn to the fashion industry. Founder of revered denim label BC Ethic, Jeff went on to launch Agave Denim, one of the USA's most prominent luxury denim labels where he remains as Head of Design and CEO. He is now an advocate for fit, form and philanthropy in everything he does and refers to himself as a "denim activist".
For further information please contact Baillie Ray at No Such Agency PR.
Baillie(at)nsa-international(dot)com. +13234641185.