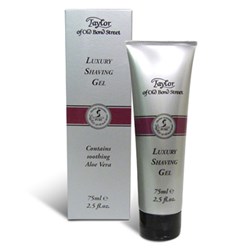 Toronto, Canada (PRWEB) August 29, 2013
Since 1854, Taylor of Old Bond Street has been selling personal care and shaving products made using natural extracts to its London-based clientele. Even though its customer base has long since expanded to include international clients, the English manufacturer has continued to innovate and improve on its time-tested catalogue. Reflecting this trend, Taylor of Old Bond Street is launching its latest product, Luxury Shaving Gel Tube, with some outside assistance. Similar to its last two products, Fendrihan is proud to announce that during an introductory period it will be the only retailer of this luxury shaving gel, other than the English manufacturer's own operations.
Despite its recent origin, this latest product has been made using much the same methods as the rest of Taylor of Old Bond Street's catalogue. In brief, the Taylor of Old Bond Street Luxury Shaving Gel Tube has been made using pure and natural materials to exacting standards so as to result in a better men's shaving product. One prominent example of these natural ingredients is extract of aloe vera, which serves to both soothe irritation of the skin and then moisturize it for a smoother feel afterwards. The resulting product is simple but effective, usable with and without a shaving brush, while remaining free of parabens and other harmful substances.
The Luxury Shaving Gel Tube is the latest product to be added to Fendrihan's extensive selection of products from Taylor of Old Bond Street. Smooth and soothing, it is bound to please men in search of the perfect shave. In this, it is joining a diverse range of products from the English manufacturer, including not only both accessories and shaving kits but also the natural compounds that have characterized its operations since its establishment. Clients interested in more products from Taylor of Old Bond Street can rest assured that Fendrihan will continue to bring its latest offerings over to North America with all possible speed.
About Fendrihan:
Fendrihan is the premier Canadian online retailer of shaving products, boasting a comprehensive selection featuring some of the most famous names in the business plus rare and hard-to-find products from manufacturers all around the globe. In recent times, a series of introductions has seen its selection expand to include more personal care products, fine writing instruments, European leather accessories, and even a superb collection of kitchen knives from the famous Japanese manufacturer, KIYA.