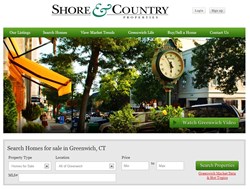 We may not be back to historic highs, but there is a renewed optimism. - Terry Baxendale, Sales Associate
Riverside, CT (PRWEB) August 28, 2013
August in Greenwich, CT has a quieter, gentler pace. With so many residents on vacation or getaways, there's a little more of Greenwich to love; less traffic, more parking, fewer lines in the shops, less time waiting for a table in restaurants. Those who choose to stick around can enjoy all the amenities that come with living on this glorious coastal shoreline.
While Shore & Country Properties welcomes the break, they know the fall market is just around the corner. This makes it an excellent time to reflect on the how the first seven months of the 2013 market faired.
A shortage of inventory kept the pressure on buyers to move quickly. The most active price point, with 81 sales was the $2M-$3M dollar range, followed by 78 sales in the $1.5M to $2M.
Terry Baxendale, one of Shore & Country's well-known agents, confirms this, observing the "remarkable activity versus a year ago in the under two million dollar price range, specifically in the Riverside-OG area but also affecting other areas to a lesser degree. Anything in excellent condition sold immediately. We may not be back to historic highs but there is renewed optimism."
Nancy Healy, broker and partner had a similar, but more cautious view, adding the numbers were "very encouraging for the first five months then it seemed to slow down quickly as far as new contracts were concerned."
While the number of single family unit sales rose 16 percent over the previous year, prices stayed relatively stable. The majority of buyers seem to be relocating from the New York City area, many of whom choose Greenwich over Westchester Country towns because of the quality of life and remarkably low property taxes. For the most up-to-date information on all home sales, visit this link to our website, http://shoreandcountryproperties.com/files/1st7Mos2013.pdf.
Shore & Country Properties also invites readers to take a moment and watch their latest video, hosted by Shore & Country Properties founder and partner, Russell Pruner. Enjoy a quick overview of the spring market, learn how different areas performed and see what Pruner thinks the fall has in store for Greenwich real estate by clicking here: http://shoreandcountryproperties.com/greenwich_market_data.html. Along with this veteran broker's insight on Greenwich's unique market, readers can discover even more about Shore & Country Properties' listings, their company and the town of Greenwich.
About the company:
Shore and Country Properties was originally started by Russell Pruner in 1989 as Russell Pruner and Associates. His vision for a company comprised of the town's best full-time real estate professionals. Nancy Healy joined the company as a partner in 1996. Since starting her career in real estate in 1987, Nancy has been one of the town's busiest and well-respected realtors. Recently her peers voted her one of America's Most Preferred Realtors. The year 2000 brought the addition of two more partners, Joan Epand and Ken Yorke. Each added yet more talent to the group, from Joan's marketing expertise to Ken's sharp accounting skills and operational abilities.
Both Russ and Nancy have served multiple time as President of the Greenwich Association of Realtors and the Multiple Listing Service and give their time to work on other committees. As a result they have a unique understanding of what it takes to run a successful real estate firm. And by carefully selecting only agents who represent the best of Greenwich, Russell Pruner and Associates quickly grew to become the leading independent real estate firm, serving all 50 square miles of Greenwich and lower Fairfield County.
"We handpick respected agents who demonstrate the integrity, expertise and personal touch that clients deserve when buying or selling their most valuable assets."
In 2003, Russell Pruner and Associates became Shore and Country Properties to let consumers know they service every neighborhood from the back country to the shore line. For the past 12 year Shore and Country Properties has been the number one real estate company in Greenwich by selling their listings in the fewest number of days (81) and with the highest original list price to sales price at 93.75%. They continue to lead the Greenwich market in transactions and dollar volume while providing unparalleled service to their clients. It is their hope that the new website will draw visitors from around the globe to learn about this very dynamic company and this very special town.