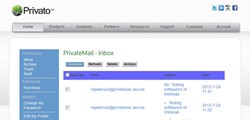 Expanding the features of PrivateMail Plus further delivers on our mission of creating a simple and powerful way to secure how businesses and people communicate privately using email.
Monterey, CA (PRWEB) August 29, 2013
Privato Security, a leader in secure and private communications, today announced expanded features to its PrivateMail Plus product and upgrades for current subscribers.
PrivateMail Plus includes the following enhancements:

Multiple access channels to PrivateMail Plus include the new Webmail interface, PrivateMail client and mobile devices
PrivateMail Plus subscribers can send private messages to any email addressee which creates a PrivateMail Inbox for them to securely communicate with the PrivateMail Plus account holder
Up to 1,000 messages per year can be sent to and from non-subscribers with additional message bundles upgrades available
Non-subscribers can send attachments to PrivateMail Plus accounts that initiated communications with them from within the PrivateMail Inbox
"Expanding the features of PrivateMail Plus further delivers on our mission of creating a simple and powerful way to secure how businesses and people communicate privately using email," said Neal Smith, president and CEO of Privato Security. "In light of the number of data breaches and concerns over personal information and data gathering from email providers and social networking sites' messaging services, we see PrivateMail as a must-have for anyone concerned about privacy. Our PrivateMail products provide a solution for businesses and private citizens that are looking for an alternative to complex encryption processes or standard email applications where their information privacy is at risk."
With PrivateMail, messages and attachments are automatically encrypted when sent and decrypted when received. Leveraging Privato's patented technology, message content, attachments and both the sender's and recipient's email addresses, are multi-tier encrypted and completely hidden from the outside world.
A use-case of how the PrivateMail Plus product works are as follows:

A doctor needs to comply with the "Data-in-motion" requirements of HIPAA. They can use PrivateMail Plus to send a secure, encrypted, private message to a patient's regular email address.
The patient receives a secure link and logs in to a PrivateMail Inbox. The patient can login, see their email(s) from the doctor and can send a secure reply. This can include filling out medical forms and other attachments to be sent to the doctor.
If the patient wants to initiate secure communications with another person other than the doctor, they would need to sign up for a PrivateMail account.
"Providing a range of access options gives customers the power to conduct business whenever they want to, however they want to and with whom they choose," Smith added. "Also, as more businesses move forward with Bring Your Own Device (BYOD) policies, PrivateMail provides a way to ensure that confidential and privileged information is only transmitted using a secure and private platform."
Highlights PrivateMail Plus include:

Access from a secure PrivateMail client, Webmail or on mobile devices
Complements a BYOD environment where security outside the corporate infrastructure is necessary
Ensures compliant and legal transmission of client and patient to other businesses and partner agencies
Generates compliance activity reports to track, monitor and demonstrate compliance with sensitive data
More information about PrivateMail products and a video demo of the Webmail interface is at http://bit.ly/1dROxcP . A free 14-day trial of PrivateMail Plus is available and annual subscriptions start at $129.95.
To find out more about Privato Security and the company's secure email solutions, visit http://www.privatosec.com.
Tweet this: News: @Privatosec expands features of PrivateMail Plus. #Secure #inbox for #private messages. #Email #encryption #finance #medical #healthcare #gov
About Privato Security
Privato Security is a leader in secure, private and compliant communications. Privato's PrivateMail utilizes patented technology and operates on a trusted communications channel to ensure that sensitive email, documents and personal information is delivered and received only by the intended recipients. Privato solutions helps organizations across financial services, insurance, healthcare, legal, accounting, government, defense and law enforcement to gain the cost savings and efficiencies of email, while making sure that sensitive correspondence is compliant with growing national and state privacy regulations. More information is available at http://www.privatosec.com or follow us at http://www.twitter.com/privatosec.