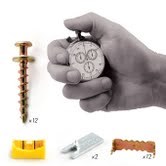 Hanging a picture can be done faster than unpacking the groceries.
Los Angeles, CA (PRWEB) August 29, 2013
Just the right piece of art—a framed picture, or un-framed canvas—sets the tone of a home, but installing a hanger can feel like one more step on a to-do list that never stops growing. With two simple tools—a hammer and a Phillips screwdriver—and a couple of key products easily available online or at a nearby retailer, hanging a picture can be done faster than unpacking the groceries.
First, attach a hanger. The easiest and most popular type of picture hanger is a sawtooth, though not all sawtooths are equal. Some come with tiny nails or microscopic screws, which tend to be difficult to work with, and easy to lose. The best by far is the nail-less sawtooth, which fastens into the back of the picture with easy taps of the hammer.
Second, choose a screw. Most pictures are well under 5 pounds, so anchors are not necessary. Nails work, but can crumble the drywall and create a mess. The best choice is a double-headed screw, or Bearclaw. Its self-drilling tip allows installation with a Philips screwdriver (or power drill).
Then, hang it level. A level, a tape measure and a pencil will get the job done. Or Hangman Products' 60 Second Hanging Kit can simplify the whole project. This product, widely available at retailers or directly online at Hangman Products, puts everything in one place. The package includes assorted sawtooth hangers, sawtooth locators, a level, and Bearclaw screws. An instructional video on the website demonstrates these simple steps:
1. Tap the sawtooth hanger into the back of the picture (two if a heavier picture).
2. Drop the locators into the hanger. These small metal pieces extrude a point which makes a tiny mark in the wall where the hangers match up.
3. Place the included level on top of picture.
4. Hold the picture against the wall until it is level. Press lightly, so the sawtooth locators make an imprint in the wall. The locators transfer exactly, marking the spot where the screws will go.
5. Slide the locators out of the sawtooth hangers.
6. Screw in the Bearclaw hangers.
7. Hang the picture.
8. Enjoy!
About Hangman Products: Hangman Products creates hardware solutions for everyday needs. The multiple-patented Hangman Systems are carefully engineered to guarantee a safe and sturdy installation while promising to hang it level every time. Hangman's products range from Hanging Pictures, Hanging Mirrors, Hanging Framed Art, TV/Stereo Mounts and Safety to Garage/Slat Wall and Organization. They are designed to meet the installation requirements for retailers, consumers and manufacturers. Hangman's ever-expanding line of products can handle even the most difficult projects.