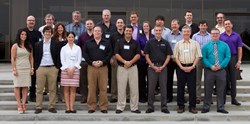 "Yamaha has always taken a long term approach to our dealer relationships, so we see this event as a crucial investment in our future and the people attending this seminar as the capital of that investment. It's the Yamaha way," said Yamaha's Bob Heller.
Buena Park, CA (PRWEB) August 29, 2013
Yamaha Corporation of America hosted its "Home Office Seminar – Executive" program, its second annual training meeting for owners, principals and managers from organizations in its dealer network, in its Buena Park, Calif., headquarters between August 5 and 9. Based on the premise that the future of the industry depends on highly skilled retailers, the week-long seminar focused on the best practices for running businesses in today's piano and keyboard marketplaces. Yamaha personnel and several notable outside business consultants led the presentations.
Bob Heller, Yamaha's director, Institutional Sales Group and national sales director for the company's Keyboard Division, explains the importance of the event to Yamaha and its dealers.
"We were pleased to meet so many people that were new to our industry at last year's Home Office Seminar. But more importantly, we recognized that these new faces represent the next generation of piano retailers," said Heller. "Yamaha has always taken a long term approach to our dealer relationships, so we see this event as a crucial investment in our future and the people attending this seminar as the capital of that investment. It's the Yamaha way."
Among the featured speakers and topics were:

Brian Wilkerson of Revolution Advisors – Surfing the Tsunami: A close look at consumer shopping trends in luxury goods;
Tom Sumner, Yamaha senior VP – Developing an effective marketing plan
Ron Lucero, Yamaha Customer Experience Group Web manager – Maximizing social media campaigns and effectiveness
Bob Heller, Yamaha director, Institutional Solutions Group and national sales director, Keyboard Division – Institutional sales strategies
The training session opened with a welcome dinner and reception followed by a presentation on the history of Yamaha. During the weeklong event, Yamaha treated attendees to several special events. For instance, on the second day of the seminar, all attendees were taken to NAMM headquarters in Carlsbad, Calif, where they were able to participate in a morning "stand up" meeting that provided a special behind-the-scenes look within the organization and its workings.
Attendees also participated in a day-long presentation by Alan Friedman that offered tips and recommendations on financial management issues all keyboard and piano dealers face. This course was based on Friedman's highly popular 'Financial Advantage' seminars he regularly gives on behalf of Yamaha, which cover topics including inventory management, business valuation and piano rentals.
The final day of the seminar featured Yamaha's HR department presentation on strategies for hiring and developing highly effective employees. Bonnie Barrett, director of Yamaha Artist Services, Inc., presented Yamaha's plans for utilizing Yamaha artists for high-profile in store events. She concluded her talk by introducing John Bayless, a world renowned concert artist, who lost the use of his right hand a few years ago due to a stroke. He gave a very emotional presentation on how this stroke impacted his life, and how his artistic recovery was aided by Disklavier technology.
The seminar concluded with an uplifting evening concert by Yamaha Artist Jeremy Siskind and his trio. At the performances conclusion, Siskind discussed his availability for promotional in-home concerts for Yamaha dealers and their clients. He has been performing in these kinds of events on behalf of Yamaha over the past few years with great results.
For more information, write Yamaha Corporation of America, P.O. Box 6600, Buena Park, CA 90622; telephone (714) 522-9011; e-mail infostation(at)yamaha(dot)com; or visit http://4wrd.it/YAMAHAUSA.
-END-
About Yamaha
Yamaha Corporation of America (YCA) is one of the largest subsidiaries of Yamaha Corporation, Japan and offers a full line of award-winning musical instruments, sound reinforcement and home entertainment products to the U.S. market. Products include: Yamaha acoustic, digital and hybrid pianos, portable keyboards, guitars, acoustic and electronic drums, band and orchestral instruments, marching percussion products, synthesizers, professional digital and analog audio equipment, Steinberg recording products and Nexo commercial audio products, as well as AV receivers, amplifiers, Blu-ray/CD players, iPod docking systems, home-theater-in-a-box systems, earphones, headphones, sound bars, and its exclusive line of Digital Sound Projectors. YCA markets innovative, finely crafted technology and entertainment products and musical instruments targeted to the hobbyist, education, worship, professional music, installation and consumer markets.