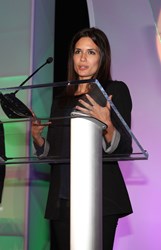 Torrey began her journey with hospice as a hospice volunteer in California and her involvement has grown deeper through the years.
Alexandria, VA (PRWEB) August 29, 2013
Fans of "Army Wives," "Pretty Little Liars" and "The Vampire Diaries" will recognize Torrey DeVitto in her role as actress. Yet, her passion for raising awareness of hospice and care at the end of life is increasing on a global level as she joins a film crew traveling to sub-Saharan Africa to film a new documentary, "Road to Hope."
Three and a half weeks of filming in Uganda, Kenya and South Sudan begins this weekend as DeVitto and the film crew arrive in Africa.
On behalf of FHSSA, DeVitto hosted a screening of the documentary "Okuyamba" at the UCLA School of Theater, Film and Television in recognition of World Hospice and Palliative Care Day last October. The powerful message of this film inspired her to become more involved with the global work of FHSSA.
Mike Wargo, COO of the Hospice Foundation in South Bend, Indiana, led the creative team that filmed and produced the critically acclaimed "Okuyamba" – which followed palliative care workers caring for patients dying deep in the villages of Uganda. In "Road to Hope" this same creative team will explore the unique challenges of orphaned children struggling to create a hopeful future after caring for their dying parents in poverty-stricken areas of sub-Saharan Africa.
The Hospice Foundation and The Center for Hospice Care in South Bend are active partners in FHSSA's unique partnering initiative that pairs U.S.-based providers with organizations providing care in sub-Saharan Africa. As Hospice Ambassador, DeVitto has met a number of international guests that FHSSA has hosted in the U.S.
"Torrey began her journey with hospice as a hospice volunteer in California and her involvement has grown deeper through the years," said J. Donald Schumacher, president and CEO of NHPCO. "Most notably, she has taught many young people about the value and gratification of volunteering in community hospices."
More than 450,000 trained volunteers contribute more than 21 million hours of service every year to hospices throughout the country reports NHPCO. Many hospices have growing teen volunteer programs that benefit not only the patients and families cared for but also the young volunteers.
"We are thrilled that Torrey will be raising awareness of the experience of young people who are living in a part of the world where the needs are great and resources are few," remarked John Mastrojohn, III, executive director of FHSSA.
DeVitto was awarded the Buchwald Spirit Award for Public Awareness by the National Hospice Foundation in April 2013 in recognition of her efforts to increase understandings of hospice and the valuable role that volunteers play – particularly among young people.
FHSSA looks forward to sharing some of DeVitto's photos from the filming on the FHSSA Facebook page and via twitter @FHSSA_news.
Learn more about the work of FHSSA at http://www.fhssa.org.
To learn more about "Road to Hope" and to follow the crew's blogs from Africa, visit http://www.RoadToHopeFilm.com.