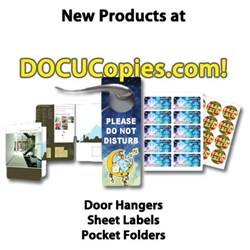 We strive to be responsive to our customers' requests and needs.
San Luis Obispo, California (PRWEB) August 30, 2013
This month, the online color printing and copying site Docucopies.com announces three major additions to their product offering: pocket folders, sheet labels and door hangers.
Pocket folders are commonly used for professional presentations at seminars, meetings, open houses, and other timeswhen the presentation is as as important as the product.
While Docucopies has offered roll labels and stickers for several years, sheet labels are new to the lineup and are better suited for smaller runs. These are particularly useful if the labels need to be stored for travel and happen to fit nicely in pocket folders as well.
Door hangers are an excellent way to market local businesses and services, and this is something loyal Docucopies customers have been requesting for some time.
"We strive to be responsive to our customers' requests and needs," says Marketing Director/Vice President Jeff Corbo. "Rolling out new products requires the right combination of demand, availability and good timing. Those elements recently came together for these products and we know our customers will be pleased."
For more information on Docucopies and their many color printing products, visit them online at http://www.Docucopies.com.