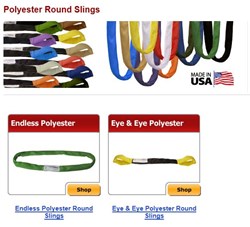 "There is such a wide variety of lifting sling types, we want to ensure we're offering exactly what our customers need for their particular applications."
Urbana, IA (PRWEB) August 30, 2013
Internet retailer USCargoControl.com has recently added several new items to its category of polyester round lifting slings, and also re-designed the layout of the website to make lifting sling selection easier for customers.
New items now offered include both endless slings and eye-and-eye slings featuring higher rated capacities of up to 200,000 lbs. (endless) and 180,000 lbs. (eye & eye), to appeal to customers requiring heavy-duty lifting sling options.
Additional updates involved coordinating the color-coded jackets of the slings across both categories to provide industry-wide consistency and make product selection easier. All of the company's polyester lifting slings are made in the USA.
According to US Cargo Control category manager JJ Floss, along with adding new items and creating consistency between the categories, the main goal of the update was to redesign the website to make it easier for customers to shop and choose the correct lifting sling.
"After extensive research and testing, we re-configured the page so customers can see rated capacities of each sling by hitch type at a glance," said Floss. "It's important to remember that the rated working load limit capacity will vary widely for the same sling, depending on the type of hitch and the angle used in the lift; we wanted to make sure this was clearly stated in the interest of customer safety."
This is the second in a series of re-vamps of the company's lifting slings categories. In May of this year, the nylon slings merchandise grouping was updated with several new styles and sizes, including the addition of bridle slings and custom boat slings options.
Floss says more updates are scheduled for US Cargo Control's overall lifting slings category, with plans to add more than 400 new chain slings styles to its selection in October.
"Lifting slings is a category we've been working carefully to expand," says Floss. "There is such a wide variety of sling types, we want to ensure we're offering exactly what our customers need for their particular applications."
Nylon, polyester, wire rope, and chain lifting slings can be purchased online at USCargoControl.com or by calling the company's dedicated phone line for lifting slings sales: 800-660-3585.
###
About US Cargo Control
US Cargo Control is a leader in cargo control industry, specializing in cargo control products, lifting slings, rigging equipment and moving supplies. Focused on offering relevant products, timely delivery, and excellent service, customers can purchase products on the company's website, http://www.USCargoControl.com, or by phone.