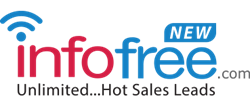 That's exactly what infofree.com will give them – the leads and technical support they need to reach new customers and enhance their sales for only $49.95 a month.
- Rakesh Gupta, president of infofree.com
SAN MATEO, Calif. (PRWEB) August 28, 2013
infofree.com, an Inc. 500 company and home of unlimited sales leads and mailing lists for small businesses, announced a major national television advertising campaign that will begin airing Thursday, Aug. 29 on business news channel CNBC. The 30-second spot promotes a $1 risk-free trial of infofree.com and is scheduled to run 20 times on the day of the launch.
"CNBC viewers are smart, successful professionals looking for a leg up on the competition," said Rakesh Gupta, infofree.com president. "That's exactly what infofree.com will give them – the leads and technical support they need to reach new customers and enhance their sales for only $49.95 a month."
The CNBC ad blitz follows a successful similar campaign on ESPNews last week. The commercials come as infofree.com marks embraces its rapidly expanding influence in the sales lead industry. Named this month to the respected Inc. 500 list of fastest-growing U.S. firms, the company's revolutionary services provide clients with unprecedented access to 300 million business and consumer listings.
To date, more than 100,000 users have bucked the slow economy and relied on infofree.com to target new customers and grow their businesses. Additional value-added services, including mobile applications and a customer relationship management (CRM) module, are under development.
This month infofree.com is in the midst of a limited time offer of $599 for a new two‐year subscription, a 50 percent discount off the regular monthly price. New one-year subscriptions are available for $359, or a 40 percent savings.
One- and two‐year subscriptions to infofree.com include these features:

Unlimited search, select and view of sales leads, with 15,000 downloads per year
More than 200 databases to create targeted lists
Unlimited mapping through Google Maps
Print or download of postal mailing and email marketing lists
Free email marketing through JangoMail.com
To learn more or to subscribe, call (877) 448‐0101.
Visit http://youtu.be/BcuzzvVA_Fo to view the CNBC commercial.
About: An Inc. 500 company, infofree.com is revolutionizing the sales lead and mailing list industries by providing unlimited search, view and download of low-cost marketing information enabling sales professionals and small businesses to target new customers and grow their sales. It offers 300 million business and consumer listings in more than 200 specialized databases.
Content is compatible with the following platforms: Oracle CRM, Salesforce CRM, Microsoft CRM, Nutshell CRM, Goldmine CRM, Sage ACT! CRM, Highrise CRM, Zoho CRM, NetSuite CRM, SAP CRM, Constant Contact, RightNow Technologies, Responsys, Vertical Response and Dun &Bradstreet.