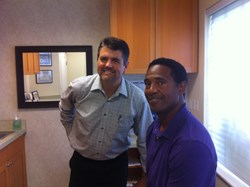 I won't rest until you sleep.
San Diego, CA (PRWEB) August 28, 2013
The most recent Pro Player Health Alliance event held in La, Jolla California in May was hosted by one of the country's most experienced and well-known sleep specialists; Dr.Bradley Eli. Dr. Eli has continued to spread awareness of the deadly but treatable disorder, sleep apnea. By offering all nonsurgical solutions to what is known as the "Silent Killer", he prides himself in finding a way to treat any patient even if it means using every treatment on the market. Since hosting his "Tackle Sleep Apnea" event, Dr. Eli has treated many NFL legends and over fifty patients total. In addition, Dr. Eli is holding a second event this September 25th at the Encinitas Community and Senior Center.
While most sleep doctors specialize in one therapeutic approach, Dr. Eli has developed a sleep management system that puts the patient's needs, rather than the doctor's specialty, at the forefront. Dr. Eli and his patients discuss a variety of sleep treatment options to help assure each patient is matched to the most effective therapy.
This initial approach combined with a quality management plan allows Dr. Eli to achieve a significantly higher rate of treatment compliance among his sleep patients, thereby reducing their risk of stroke, heart attack, and other sleep-related risks. Dr. Eli "strives to succeed in achieving 100% compliance" among his patients." He also says, "I won't rest until you sleep."
Dr. Eli states, "I believe the diagnosis of sleep disorders is complex and multi-dimensional, requiring a specialized physician, much like cardiology or neurology. The treatment options now are equally multi-dimensional requiring an expert who understands all the options and treatment. As a head and neck specialist, I'm well-qualified to present all the options to my sleep patients and expect outcomes above the national norm."
David Gergen, President of Pro Player Health Alliance, said, "In order to give others the best sleep possible, awareness has to be raised in the public communities throughout the country on what a good night's sleep actually is."
Dr. Eli and Pro Player Health Alliance invites anyone that snores, has morning headaches, unexplained fatigue during the day and anyone who wakes up gasping for air to invest in their own health and sleep by attending the event. To contact Dr. Eli regarding the event, visit http://drbradeli.com.
To learn more about Pro Player Health Alliance, visit http://proplayersleep.com.
Event Details
Date: September 25, 2013
Time: 6:30 PM
Location: Encinitas Community and Senior Center
About Pro Player Health Alliance
Pro Player Health Alliance (PPHA) is an organization dedicated to helping former NFL players, through providing testing and treatment options for those who suffer from sleep apnea. In addition, the PPHA is dedicated to integrating education and raising sleep apnea awareness, in a fun and memorable way. In addition to the campaign, the PPHA is dedicated to testing and getting people treated who suffer from sleep apnea.
About David Gergen
As President of Pro Player Health Alliance and Gergen's Orthodontic Lab, he has been a nationally respected dental lab technician for over 25 years. He received the award for "The Finest Orthodontic Technician in the Country" given by Columbus Dental in 1986. He also has been appointed chair of the dental wing of the American Sleep and Breathing Academy a national interdisciplinary academy dedicated to sleep training and education with over 60,000 members. He has worked for some of the pioneers in the orthodontic and sleep dentistry fields. One of his proudest achievements is receiving The National Leadership award for Arizona Small Businessman of the Year in 2004.
About Dr. Bradley Eli
Dr. Eli earned a post-doctoral Master's Degree at UCLA where he received advanced training in sleep disorders. He remains the only expert with this unique skill set in the San Diego region. Dr. Eli is on the hospital staff at Scripps Memorial Hospital La Jolla and UCSD. He is a member of numerous professional associations including the American Academy of Sleep Medicine and the American Academy of Dental Sleep Medicine. He holds multiple patents in the fields of both sleep and pain.