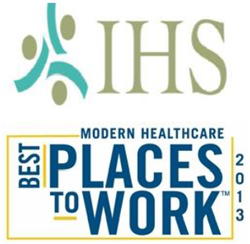 'This award reflects the quality of our consultants and their dedication to our customers. We strive to provide a culture that attracts great consultants, focused on providing great service to our customers,' said Principals, Pat Stewart, Robin Bayne.
Punta Gorda, FL (PRWEB) August 30, 2013
IHS's ranking, will be published in the October 28, 2013 issue of Modern Healthcare. The 2013 event to celebrate the winners will be held October 24, 2013 in Atlanta at the Hyatt Regency Atlanta.
Innovative Healthcare Solutions, Inc. (IHS) is a healthcare information systems consulting firm with a cost-effective, proven approach that guides and assists healthcare organizations in planning, implementing and managing information systems and services. Our guiding principles Do What's Best for our Clients, Do What's Best for our Consultants and Never Forget the Patient has attributed to our superior 13 year reputation.
IHS provides our employees with an environment promoting continuing education, colleague knowledge sharing, easy access to management and first-rate employee benefits. Weekly communication in addition to day-to-day communications, our annual employee retreat, and Employee Development and Excellence Programs reinforces our commitment to our team members and a flourishing work environment. These programs and practices guarantee consistent, quality services.