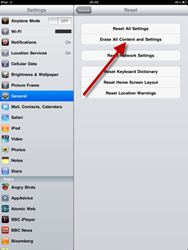 People often feel that their personal information is at risk when sending their iPad's for repair.
eld, Cardiff, Coventry, Nottingham, Leicester, Sunderland, Belfast, Newcastle upon Tyne, Brighton, Hull, Plymouth, Stoke-
London, Birmingham, Leeds, Glasgow, Sheffield, Bradford, Edinburgh, Liverpool, Manchester, Bristol, Wakefion-Trent, Wolverhampton (PRWEB UK) 29 August 2013 -- iPad Repair Service puts protecting customer's data at the heart of their operation offering valuable advice and information. iPads often contain a lot of sensitive data for work and personal use, and for most people, the thought of somebody else being able to access all that information is more than a little frightening. Fellipe states that "people often feel that their personal information is at risk when sending their iPad's for repair. Fortunately, all that needs to be done is to reset the iPad to its default settings before sending it to us. But before resetting, make sure it's backed up with iTunes or iCloud so it can be properly restored once returned." The last item under iPad's General settings is 'Reset', select 'Erase All Content and Settings'. Resetting the iPad is also used as a troubleshooting tool for software issues.
It is not always possible to reset the iPad through the settings menu. What should customers do if the iPad is nonresponsive or it is not restarting? Fellipe advises that it can still be reset and the data wiped. "To do a hard reset, press and hold the Sleep/Wake button and then slide to power off. Press the Sleep/Wake button and the Home button together until the Apple logo appears on the screen. That's the sign that you've successfully pulled off a hard reset with your iPad. You will need to connect it to iTunes in order to activate the iPad again."
iPad Repair Service handles the repair quite thoroughly and backs them up with a one year warranty should anything act up or not work properly. It also respects private information, enabling re-syncing of the device via iTunes or iCloud once it comes back, since the original operating system will be in place.
iPad Repair Service provide a quality service at all inclusive price of £95 with no hidden charges. They offer a free national iPad collection and delivery service. To find out more about the services offered by iPad Repair Service, visit http://www.ipadrepairservices.co.uk/ or call 0800 033 7508.