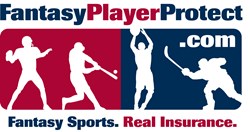 Phoenix, AZ (PRWEB) August 30, 2013
Fantasy Player Protect, LLLP, has just expanded the list of top football players who may be covered under the company's insurance product for fantasy sports gamers.
Coverage is now available for Arian Foster and Robert Griffin III.
FantasyPlayerProtect offers real insurance for fantasy sports gamers to ease the impact of injuries on their fantasy teams. Coverage is available for multiple players. Customers may submit an application and purchase a policy completely online. Policies for the 2013 professional football season are now available at http://www.FantasyPlayerProtect.com.
MiniCo is the appointed program administrator for the FantasyPlayerProtect insurance product. The policy is underwritten by carriers rated "A" (Excellent) by the A.M. Best Company.
About Fantasy Player Protect, LLLP
Fantasy Player Protect, LLLP, was founded in 2013 for the purpose of developing an Internet distribution platform to introduce a low-cost insurance solution specifically designed for gamers participating in fantasy sports leagues to include, but not limited to, football, baseball, basketball and hockey.
About MiniCo Insurance Agency, LLC
MiniCo Insurance Agency, LLC, was founded in 1974 as a provider of specialty insurance products and publications for the self-storage industry. Today the company is a program administrator offering multiple specialty property and casualty insurance products for a variety of unique industries and exposures. MiniCo Insurance Agency, LLC, the parent company of MiniCo Insurance Agency of Canada, Incorporated, is a member of the Aran Insurance Services Group.