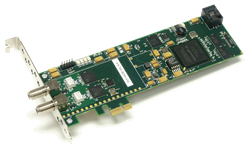 Opens the door for high performance head-end based interactive menus and games.
Slinger, WI (PRWEB) August 30, 2013
VideoPropulsion® Interactive Television (OTC "VPTV"), an industry leader in digital TV hardware and software technologies, today announced that it has been awarded US patent protection (#8514893) for technologies it has developed to reduce latencies in Quadrature Amplitude Modulation (QAM) devices used to send RF digital television signals over coaxial cables. Low latency QAM signaling is important for interactive television menuing, gaming, and other applications that send digital television signals over coax. The named patent holders are Matt Spransy, Senior Software Engineer, Joseph Nordman, Vice President of Engineering, and Carl Pick, Chairman & Chief Scientist.
"Digital television networks have inherent latencies as long as a second or more because of the necessity for pipelines in large data buffers to smooth the flow of streaming video data," said Nordman. "Those delays are disruptive to interactive television users who are, for instance, moving a cursor through a menu to select a program or service or playing a "twitch" game. Our technology exhibits latencies that are 80% lower than current commercial edge QAM modulators, gateways and appliances in the market today."
"Actual latency periods in VideoPropulsion FloodGate QAM appliances using the technology are typically well under ten milliseconds," reports Pick.
Spransy added, "We've found no degradation in video quality when streaming content is mixed with interactive applications using our protocol."
VideoPropulsion will include low latency interactive QAM features in it's FloodGate family of products including FG-4800 Edge QAM and FG-5000 series bulk transcoders.
About FloodGate
FloodGate appliances from VideoPropulsion bring hospitality HDTV programming from satellite, and cable television MSOs to a variety of hospitality markets and support distribution via RF (coax), IPTV (Ethernet), or wireless (mobile) infrastructures. All FloodGate models automatically encrypt HD channels to meet Hollywood's strict requirements for content protection using standard technologies readily available from commercial hospitality television set and mobile device manufacturers. FloodGate systems can co-exist with most pay-per-view and video on demand systems currently deployed.
About VideoPropulsion
For nearly 40 years, VideoPropulsion has been a world leader in hardware and software for high performance, low cost per stream, digital content manipulation, and has established a reputation for providing unique HDTV,VoD, and IPTV products. The Company offers revolutionary FloodGate satellite and CATV transcryption appliances as well as OEM computer modules for variety of applications, including streaming, multiplexing, demultiplexing,modulation, demodulation, transcoding, encryption, and splicing MPEG formatted data.
For further information, contact:
Carl A. Pick
Chairman, CEO, and Chief Scientist
VideoPropulsion
255 Info Highway
Slinger, WI 53086
(262) 644-1000
carl(at)videopropulsion(dot)com
http://www.videopropulsion.com
VideoPropulsion and FloodGate are registered trademarks, and Torrent and Hailstorm are trademarks of VideoPropulsion Interactive Television, Inc.