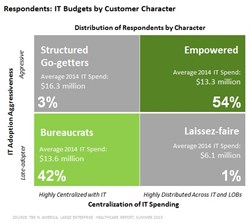 Hampton, NH (PRWEB) August 29, 2013
Spending at large North American healthcare organizations is expected to increase to more than $34.5 billion across payers and providers as regulatory mandates demand infrastructure modernization to meet new healthcare guidelines. Technology Business Research Inc.'s new SourceIT Healthcare Report details how this spend will be parsed out across industry applications, business applications, productivity applications, business intelligence and analytics, database and technology, and systems management, as well as which vendors are poised to take the lion's share of these budgets.
"The wide variety of regulatory mandates and changes coming into force in the near term in the U.S. magnifies the pressure on healthcare providers, commercial payers and public sector agencies to maximize the value and ROI of their IT spend to meet these requirements," said TBR healthcare analyst Joseph Walent. "Health IT vendors able to recognize the IT spending habits of the market segments, and adjust accordingly, will be best positioned to secure market share. The analysis we're conducting in our SourceIT Healthcare Report will provide our clients with information to make better business decisions in this shifting market."
TBR's SourceIT Healthcare Report surveyed 225 IT decision makers across the C-Suite and line-of-business managers at payers and providers, and conducted 25 qualitative, in-depth interviews to uncover spending intentions, priorities and perceptions. The in-depth interviews underscored the importance decision makers place on industry expertise and pinpointed which capabilities will receive funding and how technology providers will be shortlisted.
One survey respondent said, "Regulatory compliance funds take the priority, absolutely, for the healthcare industry. For example, ICD-10 is not a project; it's a program with an estimated end-to-end budget of $2.5 million. A large part of that is based on consultants' contributions, because we're not relying on people who are unfamiliar with this."
The survey also explores how the average budget — approximately $12 million at providers and approximately $18 million at payers — will be allocated across workloads, such as electronic health records (EHRs) and electronic medical records (EMRs), claims management and call centers. Furthermore, the research clarifies how budgets are earmarked for priority-zero projects and efficiency projects. This business insight will be critical for decision makers to understand peer behavior and for solution providers to create strategic plans to capture this spend in healthcare IT. End-user purchasing profiles that identify companies as structured go-getters, bureaucrats, empowered or laissez-faire based on characteristics of technology adoption patterns are an additional benefit of this research.
TBR's SourceIT Healthcare Report provides deep business insight into the IT investments healthcare organizations are planning to meet government requirements and improve operational efficiency. Stuart Williams, Software and Cloud Practice director, emphasizes the importance of the insight in the report, "Healthcare IT in North America, especially in the U.S., is at a crossroads as mandates, business pressure, new technologies, big data and consumerization buffets payers and provider alike. TBR's SourceIT Healthcare Report helps IT vendors understand how these forces are shaping $34.5 billion in IT spend, where those dollars are going and who authorizes the budgets."
More than 30 vendors are covered in the SourceIT Healthcare Report, including Accenture, Cerner, Citrix, HP, GE Healthcare, Lawson, IBM, McKesson, Microsoft, Oracle and Salesforce.com.
TBR launched the SourceIT research program in January 2013, providing an opportunity playbook into specific large enterprise market segments. SourceIT reports provide TBR's clients with clear, actionable insight that can be leveraged to:

Identify opportunity by highlighting the business and IT strategy drivers and demands in specific market segments;
Target IT purchasing decision makers by explaining purchasing scenarios and identifying where in the business or IT organization decisions to purchase will be made;
Improve corporate positioning against competition by targeting customer needs and managing rivals.
The Federal and Public Sector; Telecom Service Providers; Banking and Financial Services; and Retail reports are available. Manufacturing; Energy and Utilities; and Transport and Logistics SourceIT industry reports will publish in fall 2013.
TBR is offering current and prospective clients a free, 30-minute consultation with Stuart Williams to discuss where large North American healthcare providers and payers are headed; contact SourceIT(at)tbri(dot)com to schedule your private consultation. Current and prospective clients can also learn more about this research via TBR's webinar "Where large healthcare payers and providers are headed: How IT vendors can capture opportunity."
For more information please contact Senior Marketing Manager Alison Crawford at alison.crawford(at)tbri(dot)com or Vice President of Sales James McIlroy at 603.929.1166.
ABOUT TBR
Technology Business Research Inc. is a leading independent technology market research and consulting firm specializing in the business and financial analyses of hardware, software, professional services, telecom and enterprise network vendors, and operators. Serving a global clientele, TBR provides timely and actionable market research and business intelligence in formats that are tailored to clients' needs. Our analysts are available to further address client-specific issues or information needs on an inquiry or proprietary consulting basis.
TBR has been empowering corporate decision makers since 1996. For more information please visit http://www.tbri.com.