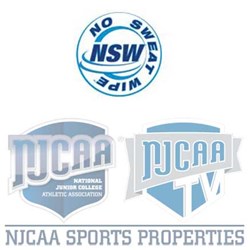 Colorado Springs, CO (PRWEB) August 29, 2013
The National Junior College Athletic Association (NJCAA), through its multimedia rights entity NJCAA Sports Properties, has reached a sponsorship agreement with No Sweat Wipe of Denver, Colo. No Sweat Wipe's innovation has produced an effective sports floor mop that removes perspiration from the playing surface while also providing new marketing opportunities atop its product for teams and colleges.
No Sweat Wipe Marketing Mops are proven to reduce slip and fall accidents which can cause injuries. Created and patented in 2005, Marketing Mops also provide a new and exciting revenue opportunity for current and/or potential sponsors. The circular mop features a cleaning surface that can be changed quickly as wells as an overlay disc that can be changed to feature team or corporate sponsor logos.
"This partnership between No Sweat Wipe and the NJCAA reflects the strong commitment both organizations have made to student athletes," commented Andy Truitt, No Sweat Wipe Director of Sales and Service. "We look forward to helping keep court floors dry and safe for NJCAA member teams."
As the "Preferred Sports Mop of the NJCAA", No Sweat Wipes Marketing Mops will be used exclusively at NJCAA men's and women's basketball championship tournaments beginning March 2014.
Used currently by several NBA teams and NCAA colleges, No Sweat Wipes, per terms of its agreement, will implement a unique product package for NJCAA member colleges.
About the NJCAA
Since 1938 the National Junior College Athletic Association (NJCAA) has been the governing body of two-year college athletics, offering athletic and academic opportunities to college students. The NJCAA is the second largest national intercollegiate athletic organization in the United States with over 500 member schools in 43 states. Each year nearly 60,000 student-athletes compete in one of 28 different sports and the organization sponsors 48 national championship events and nine football bowl games. NJCAA Headquarters has been located in Colorado Springs, Colo., since 1985. For more information visit http://www.njcaa.org.
About No Sweat Wipe
In 2005, No Sweat Wipe, LLC introduced the court sports world to a new way of wiping up perspiration. Uniquely designed for maximum effect, the innovative NSW Sport Marketing Mop will keep your court safe and dry. Brilliantly engineered for maximum exposure, the NSW Sport Marketing Mop will ensure team and sponsor brands get seen. Learn more at http://nosweatwipe.com.