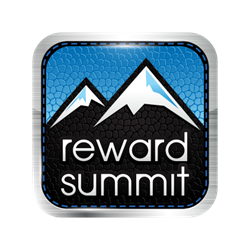 Our new app solves a persistent problem in the simplest way possible, and we're proud of the new innovations we've brought to the shopping space.
Charlotte, NC (PRWEB) August 29, 2013
Reward Summit has just released a new version of its app, which allows customers to maximize their rewards points by automatically recommending the perfect credit card for each purchase. The new release has an upgraded set of features to enhance the shopping experience of users and help them understand and leverage the various benefits of each of their credit cards. The popular mobile app has been known as a "must have" for savvy credit card shoppers. It has won several recognitions and awards and is being featured in the Apple Store.
Shoppers interested in learning more about the free app can download it on their safari browsers via the following URL:
https://itunes.apple.com/us/app/reward-summit/id689792263?mt=8
They can also learn more about the app by visiting the app's site here:
Reward Summit solves a persistent problem for customers: having to memorize the disparate rules and terms of each of their cards. For example, many cards will offer addition rewards for differing specific merchant types for three months at a time. Unless the user is studying these rewards programs on a daily basis or putting post-it notes on the cards, it's nearly impossible to always use the right card at the right time. As a result, each credit card user can leave several hundred dollars in rewards on the table each year.
Reward Summit provides a solution for this problem. First, users let the app know which types of credit card they own (no personal information is required). When the customer is shopping, they open the app when they're about to make a purchase. Reward Summit tells the customer the best card to use for their particular purchase by utilizing location-based technology (run through FourSquare). If a user is buying online she can simply let Reward Summit know which site she is shopping on. Reward Summit then searches its comprehensive rewards database to let the user know the perfect card to use for that particular purchase.
"The second we launched this app, we knew it was going to be big," says John Espey, co-founder of Reward Summit. "This isn't one of those 'solutions looking for a problem' - everyone we know has multiple credit cards, and everyone loses out on points. For the average American, this app will result in hundreds of dollars in extra bonuses each year - enough for a free vacation or a new TV - and it takes literally seconds to use. Our fans have been amazing, and they've provided us with constant feedback - we released the new version of the app to make their experience even better."
The new version of Reward Summit, which released on the iTunes store today, has integrated fixes and suggestions made by its thousands of loyal users. Among the new features integrated into version 2.0:

Users are now alerted of card features such as baggage benefits, merchandise warranties, room upgrades, and rental car insurance when making purchases and deciding upon new cards. These "intangibles" are now woven into purchase recommendations.
Users can now automatically and securely import their credit card transaction histories, which greatly increases the accuracy of Reward Summit's recommendations.
Users now receive a "Reward Summit Score" which they can compare with friends to see how well they're optimizing their cards.
Users now have a "cheat sheet" which they can use for on-the-fly purchase decisions by category, such as travel, entertainment, restaurants, and more.
Multiple user interface and design improvements to enhance the speed and aesthetics of the program.
"I think users are going to be thrilled with the new version of the app," says Espey. "We listened to everything they asked for and we gave it to them, and we're continually programming new functionality in. We encourage everyone to keep giving us suggestions and providing us with feedback - we're excited to have such an active user base, and things are only going to get more excited."
The new version of Reward Summit can be downloaded by visiting: https://itunes.apple.com/us/app/reward-summit/id689792263?mt=8 from the Safari browser of any iPhone or searching for the app in the iTunes app store. Prospective users can also learn more about the app by visiting http://www.RewardSummit.com from any web browser.