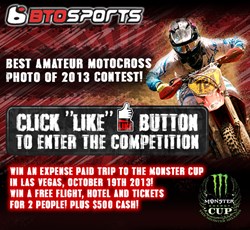 BTO Sports wants to give amateur photographers a chance to show what motocross can mean to them
Thousand Oaks, CA (PRWEB) August 29, 2013
BTO Sports, a leader in quality motocross gear, parts and accessories, is excited to launch their Best Amateur Motocross Photo of 2013 Contest where any individual can submit their greatest motocross shot. The contest was created to generate enthusiasm in the motocross world and highlight talented riders and photographers. The grand prize winner will receive an expense paid trip for two to Las Vegas to see the Monster Energy Cup on October 19, 2013.
"The contest isn't about who can nail the most extreme trick and catch a photo of it. BTO Sports wants to give amateur photographers a chance to show what motocross can mean to them," said a BTO Sports representative.
To enter, participants must have a Facebook page and submit their entry via https://www.facebook.com/btosports. The contest can be found in the tab section under the cover photo.
Facebook users can vote for their favorite photos, and BTO Sports will select the winning photo from the top five most voted photos.
The grand prize for a winner and their guest will consist of two tickets to the Monster Energy Cup 2013 on October 19th in Las Vegas. BTO Sports will provide airfare from place of origin to Las Vegas, a two-night stay at the Hard Rock Hotel of Las Vegas (Friday and Saturday night), and $500 in cash spending money.
Whether it's capturing an awesome rut smash or a picturesque secret racing area, BTO Sports wants to see riders getting it done, but encourages safety first. BTO Sports assumes no liability for any injuries.
"We want these photos achieved in a safe manner and we don't want people riding over their heads in an attempt to get one photo," said a BTO Sports representative.
Click here for a complete list of rules and regulations.
Interested participants can enter their photo through September 20, 2013.
About BTO Sports
BTO Sports offers the largest collection of motocross gear, dirt bike parts and motocross parts on the web, including motorcycle helmets, motorcycle boots, motocross casual and more. BTO Sports is all about supporting the rider. Whether you're a pro, amateur or just a weekend warrior, BTO Sports has the gear you need at the prices you love.