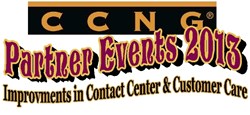 Fort Worth, TX (PRWEB) August 29, 2013
CCNG International Inc. is pleased to announce three partner events hosted by Five9 on September 11th in Dallas, TX, September 17th in Atlanta, GA and September 18th in Orlando, FL. Attendees will discover how to implement a multi-cloud strategy and turn the contact center into the highly valued corporate asset as business demands.
Join fellow CCNG members and area contact center management for a breakfast briefing to better understand how to make the contact center the highly valued corporate asset it can truly be. Learn how to revolutionize a customer service or sales operation using a cloud contact center as a strategic centerpiece. Hear industry analysis and guidance, a real-world success story and more.
Keynote: The Multi-Cloud Contact Center as a Corporate Asset
Sheila McGee-Smith, President, McGee-Smith Analytics
The Cloud Contact Center Advantage
Liz Osborn, VP of Product and Solution Marketing, Five9
Empower Your Agents to Engage Your Customers
Mark Howe, Regional Director, Bluewolf
Real-World Cloud Contact Center Success
Matt Zemon, President & CEO, American Support
Breakfast Briefing in Dallas on September 11, 2013
Hotel Intercontinental
5201 Dallas Parkway
Addison, TX 75001
Breakfast Briefing in Atlanta on September 17, 2013
Crowne Plaza Atlanta Perimeter at Ravinia
4355 Ashford Dunwoody Road
Atlanta, Georgia 30346
Breakfast Briefing in Orlando on September 18, 2013
Marriott World Center
8701 World Center Drive
Orlando, Florida 32821
About CCNG International, Inc.
CCNG offers events, programs and resources to all levels of contact center, customer care and customer experience professionals. This is how good customer service and contact center organizations continue to get better. For more information about CCNG, please visit http://www.ccng.com. "Like" us on Facebook and Google+, follow us on Twitter @dhadobas.