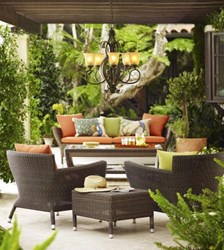 The outdoor lifestyle is about comfort and style.
Los Angeles, California (PRWEB) August 29, 2013
As the unofficial sign that summer's over, the Labor Day BBQ is seen by many as the last chance to pass a long afternoon outside with friends and family. In light of the coming holiday weekend, Manja Swanson, design expert and Chief Creative Officer at lighting retailer Lamps Plus, offers a handful of easy-to-implement decor and entertaining ideas that are stylish enough to be enjoyed throughout the year.
"The outdoor lifestyle these days is about comfort and style. From upholstered furniture and pillows to outdoor fountains and wall art, being outside is not about roughing it. It's about enjoying yourself," explains Manja Swanson, Chief Creative Officer at Lamps Plus. "To help our consumers better find stylish outdoor decor and furniture, we've hand-picked a selection of the freshest designs on our 'Outdoor Lifestyle' Shop by Trend page."
"Want to set the mood for your get-together? Start with an outdoor fountain for a cooling and calming element around the back patio," says Swanson. Fountains are generally associated with warm weather, but the soothing sound of running water is just as enjoyable in colder climates. "A tabletop design is an easy, portable way to enjoy the soothing effects of running water year round. Set them up on the back porch during your outdoor party, and bring them inside in the winter so they don't freeze over."
To add additional ambiance to a get-together, Swanson recommends party lights. With a variety of themes, from mini lanterns to chili peppers, these lights can be strung up anywhere to add a festive glow to any occasion. "Because they're on a string, these decorative party lights can be hung inside or outside," explains Swanson. "Store them with the rest of your decorations and bring out for special occasions—birthdays, holidays or anytime you want to add an extra punch to your decor."
With fountains and mood lighting in place, Swanson suggests additional ways to accent a Labor Day BBQ with a range of outdoor decor: "Outdoor art and sculptures add a touch of style, while decorative planters are a great way to highlight your plants on the porch or patio." Swanson recommends that outdoor spaces be outfitted with comfortable furniture: "Pillows, ottomans, and cushioned seating are no longer a luxury outdoors…they're an expectation."
Lastly, it's time to serve the guests. "Reusable serveware and glassware is an environmentally conscious way to raise the bar on style at your BBQ," notes Swanson. With the environment on everyone's mind these days, disposable party supplies have fallen out of favor. She continues, "today there are plenty of trays, bowls, dishes and more that are durable enough for the outdoors but sophisticated enough for a winter dinner party."
Swanson finishes with a playful alternative to the traditional BBQ: "While the weather is still nice, there's one last option you could try: grab a few blankets and picnic baskets and transform the backyard into your own personal park. Your guests (and especially your kids) will be delighted."
About Lamps Plus
For more than 30 years, Lamps Plus has been synonymous with excellence in the retail lighting industry. Established in 1976, Lamps Plus is the nation's largest specialty lighting store, with more than 40 superstores throughout the western United States. In 2013, LampsPlus.com was named a Top 10 Housewares/Home Furnishings e-tailer and a "Hot 100" world's best retail website by Internet Retailer Magazine. Together with its retail locations, the company serves customers nationwide with the largest selection of functional and decorative lighting fixtures, accessories, furniture and home decor. This selection includes hundreds of products, ranging from traditional chandeliers to the latest in home decor, available exclusively from Lamps Plus. The company also holds several patents for innovative lighting. Services offered include in-home lighting consultations, in-store workshops and installation from expert, licensed electricians. American Lighting Association certified designers are available to offer product recommendations and advice in all our stores, by phone or online at LampsPlus.com. The Lamps Plus family of websites also includes 55 Downing Street, Lighting Luxury Style, Builders Discount Lighting, and Lamps Plus Open Box. Visit the official Lamps Plus website: LampsPlus.com.