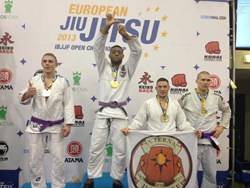 "The level of competition is something that can't be mimicked by any other regional tournament stateside"

- Julius Park
Baltimore, MD (PRWEB) August 28, 2013
Crazy 88 Medal Chaser Timothy-Michael Spriggs won two gold medals on Sunday, August 25, at the 2013 Sao Paulo Open held by the International Brazilian Jiu Jitsu Federation (IBJJF).
Held in the beautiful urban city of Sao Paulo, the Sao Paulo Open is known for attracting some of the toughest regional competition known to the sport of Brazilian Jiu-Jitsu .
Head Instructor Julius Park stated, "I always look to get the upper belts tough match ups to prepare them for the grind that the upcoming season holds. I knew the atmosphere of Sao Paolo combined with the level of competition is something that can't be mimicked by any other regional tournament stateside."
Coming off a tragic injury suffered in practice, which ended his 2013 season prematurely, Timmy Spriggs has hit the new season with a vengeance. Finishing ranked number 1 in the world at Purple Belt without competing in the last leg of the Grand Slam season, Spriggs was promoted to Brown Belt. After capturing gold at the New York Open held in July, Spriggs wanted to ride the momentum right in to Brazil. That he did, turning in a spectacular performance in his weight class defeating Fernando Reis who was a former double gold medalist. To top it all off Timmy Spriggs looked even better in the Open division taking home his second gold medal of the weekend.
Talking about the tournament success, Timmy Spriggs stated, "I'm just happy to be able to do Jiu-Jitsu again! It was really hard for me to be sidelined last year and watch all my teammates compete while I was stuck rehabbing and recuperating. This weekend I just felt like all the hard work paid off and now it's just back to the gym to continue my evolution.
If you're interested in Brazilian Jiu Jitsu, Muay Thai Kickboxing or Mixed Martial Arts classes for kids or adults, please contact one of Crazy 88's three locations.
7024 Troy Hill Dr, Suite L
Elkridge, MD 21075
http://www.BaltimoreMixedMartialArts.com
5 Easter Ct., Suite E
Owings Mills, MD 21117
http://www.baltimore-mma.com
1845 Brookfield Ct
Frederick, MD 21701
http://Frederick.Crazy88bjj.com