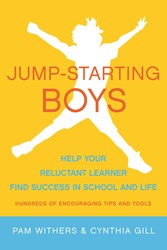 This book gave me answers and told me how to generate interest in him again. Really a life saver!!
— Reader review
(PRWEB) August 29, 2013
It is no secret boys are falling behind in education, with fewer young men graduating from high school and enrolling in college every year. Filled with reassurance and support, Jump-Starting Boys: Help Your Reluctant Reader Find Success in School and Life has heart-warming true stories, take-action checklists and over 200 helpful tips.
Teacher Tips and Lesson Plans recently reviewed Jump-Starting Boys. "Jump-Starting Boys is a great resource for parents and teachers of reluctant learners - especially boys. It is a must-read for anyone dealing with an underachieving boy - and contains a wealth of advice that can be instrumental is helping that learner find success in school - and in life!"
TeachBoys.org interviewed Pam Withers and Cythia Gill. When asked for a great tips for reluctant readers, they responded, "Read to them or with them at least 15 minutes per day, preferably finding a male role model to do this regularly, and see if you can match them with a younger struggling reader to allow them to be an older 'reading buddy,' which can put rocket launchers on his reading abilities as well as on his younger buddy's abilities."
Foster Care to Success also featured Jump-Starting Boys, particularly in how a successful education will help boys become successful in work and life. "Schools typically haven't kept pace with training kids for what the workforce needs. Besides steering male students to extracurricular activities that will help them build their resumes, foster parents, social workers and independent living coordinators need to guide them to the best teachers and lobby on their behalf."
Join Pam and Cynthia at these events and listen to them on the radio:
9/4: Talk of the Town, WSID Radio - 10:20am EST
9/4: Walking with Spirit Radio - 6-7pm PST
9/16: The Athenian School, Danville, CA
9/16: Kumon Campbell, Campbell, CA - 6pm
9/18: Towne Center Books, Pleasanton, CA - 7pm
9/19: Books, Inc. Palo Alto, CA - 7-8pm
10/2: Let's Talk Mom Radio - 8pm EST
10/10: Barnes and Noble, Minnetonka, MN - 7-9pm