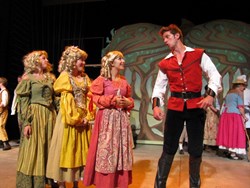 "We are proud to sponsor this production and to also be a part of the developing arts movement here in Breckenridge," said Mike Millisor, Owner and Developer of Breckenridge Grand Vacations.
Breckenridge, CO (PRWEB) August 30, 2013
The Breckenridge Backstage Theater's production of Disney's Beauty and the Beast will play Friday, August 30 through Monday, September 2, 2013 at the Riverwalk Center in Breckenridge at 150 W. Adams Avenue. All shows will begin at 7:00 p.m.
This production will be one of the largest stage performances that the Riverwalk Center, has ever hosted and will feature flying affects and a cast of 67 professional and local actors.
Disney's Beauty and the Beast is the enchanting stage version of a "tale as old as time." Relive all the romance and magic of the beloved Disney film in this inspiring story of the strong-willed Belle, the forlorn and cursed Beast, and their discovery of the redemptive power of love. With a familiar collection of Disney characters including Lumiere, Cogsworth, Mrs. Potts, Gaston and LeFou – as well as classic songs, clever costumes, and exciting music and dance sequences – this is a show to delight all ages, especially those 12 and younger.
Disney's Beauty and the Beast features music by Alan Menken and lyrics by Howard Ashman and Tim Rice, book by Linda Woolverton.
The cast is headed up by some of Denver's finest musical theatre talent. Markus Warren (Arvada Center's Man of La Mancha) plays the Beast. Ronni Gallup (Town Hall's Brigadoon) plays Belle. Carla Kaiser Kotrc and Tim Fishbaugh reprise their roles as Mrs. Potts and Maurice, respectively, from the Town Hall production of Beauty and the Beast. Jimmy Miller (UCDT's La Cage Au Folles) plays Cogsworth. Eric Mather (BBT's The Nerd) plays Lumiere. Jenny Weiss (BBT's Out of Order) is Babette. Traci Kern (Aurora Fox's Bloody Bloody Andrew Jackson) is the Wardrobe.
Local performers in leading roles include: Drew Reges (BBT's Cannibal) as Gaston, Kevin Abernathy (BBT's Music Man) as LeFou, and Cammie Wilson making her stage debut as Chip. Other local leads include Jon Hans, Marlo Provorse, Cait McCluskie, and Kristina Middlebrook. Other local performers include Nathan Quandt, Jessica Belflower, Chris Knorr, Mandy Sherar, Mark and Steven Jardim, Thomas and Brennan Creen, Lisa Hans, Paul and Ian Hans, Bob Cottrell, Dana Cottrell, Grace Cottrell, Riley Cook, Stirling and Maisy Cook, Gail Smith, Mark Lineaweaver, Brody and Riley Lineaweaver, Brent Smith, Julio Mora, Shirley Mora-Calderon, Linna and Maressa Mora-Calderon, Kale Gallup, Braeden Mather, Cassidy Citron, Natalie and Sarah Doocy, Dunie Righter, Summer and Foster Krueger, Jeremy Lefevre, Jarelle Bjork, Emily Newell, Kristen Simpson, Bryon and Nicole Ayala, Madison Lytle, Simone Babet, Austin and Dylan Parmely, Emily Pappas, Selah Kreeger, Klara Smith, Casey Doran, Lily Burns, Kaleigh Klass, Sylvie Westerhoff, and Debbie Swartz.
The production is directed by Christopher Willard (The Music Man), music directed by Jalyn Courtenay Webb, with tracks by Donna Debreceni (The Wizard of Oz), assistant music direction by Traci Kern, choreographed by Katie DeSantis, set design by Tina Anderson (Avenue Q), lighting design by Jenn Orf (The Music Man) and costume design by Jimmy Miller. Flying Effects by ZFX Flying, Inc. Sound engineering by Rick Thompson. Beast makeup by Todd Debreceni.
There are several ticket options available for patrons: Advance Purchase General Admission Tickets are available at $27 Adults, $12 Children 12 and Younger. Day of Purchase General Admission Tickets are $29 Adults, $14 Children 12 and Younger. Family Four Pack General Admission is $60. VIP Reserved Seating is $40 each. Tickets are available online at http://www.townofbreckenridge.com or by calling 970.547.3100 ext. 8, or by visiting the Riverwalk Box Office during regular business hours.
Special light-up roses will be sold at each performance for $5 each so audience members may participate in the magic of the story in a final moment of the story (directions in show program).
Event sponsors include: Breckenridge Grand Vacations, Tents and Events Party Rental, Alpine Bank, Paragon Lodging, The Town of Breckenridge and The Summit Foundation.
Disney's Beauty and the Beast
music by Alan Menken
Lyrics by Howard Ashman, Tim Rice
book by Linda Woolverton
A Breckenridge Backstage Theatre Production
Starring: Markus Warren, Ronni Gallup, Carla Kaiser Kotrc, Eric Mather, Jimmy Miller, Tim Fishbaugh, Jenny Weiss, Drew Reges, Kevin Abernathy, Traci Kern, Cammie Wilson
Director: Christopher Willard
Music Director: Jalyn Courtenay Webb
Assistant Music Director: Traci Kern
Tracks by: Donna Debreceni
Choreography: Katie DeSantis
Set Design: Tina Anderson
Costume Design: Jimmy Miller
Lighting Design: Jenn Orf
Sound Engineer: Rick Thompson
Beast Makeup: Todd Debreceni
Flying Effects: ZFX Flying, Inc.
For more information on the Backstage Theatre's Lucky '13 Summer Season, please visit our website at http://www.backstagetheatre.org. Like us on Facebook, follow us on Twitter, or read behind-the-scenes events on our Backstage Blog. Be part of the Backstage's social media life at one of these exciting sites, and thanks for supporting Summit County's premiere community and professional theatre group.
Event sponsor Breckenridge Grand Vacations is the parent company of the award-winning Grand Lodge on Peak 7, Grand Timber Lodge and Gold Point Resort. Since 1985, brothers Mike and Rob Millisor, along with partner Mike Dudick, developers of the Breckenridge Grand Vacations family of resorts, have been creating great vacations for thousands of families. Their solid, 4 component business philosophy—comprised of investors, owners & guests, employees and the community, has given them the focus for their incredible success in the vacation ownership business in Breckenridge, CO.  For more information, visit http://www.BreckenridgeGrandVacations.com.