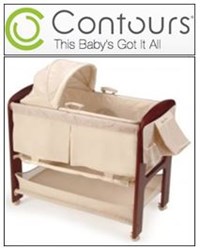 (PRWEB) August 29, 2013
Contours, an innovative collection of products for babies and infants, is taking strides to help parents learn about critical newborn health screenings. The well-known brand recently co-sponsored a blogger baby shower with The Baby Ladies, a prominent online mom's group and blog, to support the Save Babies through Screening Foundation. The shower was held in Chicago on July 25 and united current and future moms in an effort to raise awareness of the importance of early health screenings for babies.
Participants at the blogger baby shower learned about products, services and screenings that can help babies stay happy and healthy. This type of event has gained popularity as a way for moms to connect, network and learn from one another after initially meeting online.
Contours baby products leverage unique designs to fit the ever-changing needs of today's family. Products include strollers and bassinets, and focus on providing positive solutions to parents and babies. As a proud member of the Kolcraft family of infant and baby brands, Contours is committed to supporting efforts that promote healthy babies. Contours is a family-owned brand that recognizes the importance of providing valuable resources and information to new parents.
About Contours:
Contours belongs to the Kolcraft family of baby product manufacturing, a parent company with roots dating back to 1946. Contours focuses on creating baby strollers and bassinets that make everyday life a little easier for parents. Contours products are unique in that they are highly adaptable and solutions-based, offering multi-faceted approaches to parenting. For more information, visit http://www.kolcraft.com/brands/contours.html.