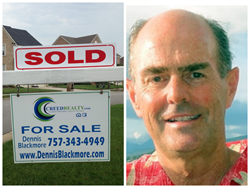 Understand the need for your home to "Stand Out" – not just be Listed on the market!
Virginia Beach, VA (PRWEB) August 30, 2013
Creed Realty is located in Virginia Beach and serves Chesapeake, Norfolk, Suffolk, Portsmouth, Hampton, Newport News, Yorktown, Williamsburg, and the greater Hampton Roads area. This real estate news update will be with Dennis Blackmore. One of the most frequent question that will be addressed - What are the best things to do for sellers to prepare their home for sale? Popular topics include small renovations (upgrades with value), home staging, deep cleaning, massive de-clutering, painting, curb appeal value and landscaping, cost versus benefits plus more.
All of the above items mentioned have importance in the Virginia Beach and Hampton Roads real estate market for the seller. Listening to the seller and understanding the ins and outs of the home goes a long way in preparing the property for sale. Establishing the team concept between REALTOR®, seller, vendors, and repair companies is paramount. Consider the following items when preparing the home for sale:
Photographs and, better yet, video may be at the top of the list for sellers. Since over 85% of buyers start their home search on the internet pictures and video can be the item that gets the seller showings. It is important to prepare a home properly before photographs and ultimate syndication to internet real estate sites. High quality pictures and video are a must and compliment the REALTORS® written blog touting the home and increasing internet presence. Furthermore, mobile devices are more and more popular with Virginia Beach and Hampton Roads home searchers so make sure your REALTOR'S® site is mobile friendly (see this example).
Repairs are a must. If something is broken, leaking, etc., consider getting it fixed before putting the home on the market. This helps avoid buyer questions and shows the seller's pride of ownership. Repairs overlooked will be probably show up in the buyer's home inspection. Fix everything before listing the home.
What potential buyers see when they do a drive-by or step out of the car cannot be over-emphasized. Curb appeal can add thousands of dollars in value to the seller's home. Consider minor upgrades to landscaping to make the home stand-out. Curb appeal includes the front porch.
Staging of some sort is an absolute no-brainer. It set's the mood. Many sellers cannot afford a professional stager so best to ask a REALTOR® for tips. Do not be afraid to do some research on the web. There is no substitute for great staging and they can often make simple rooms look like "Wow". See these great home staging tips.
Upgrades can make a difference. If selling at a price point where granite, stainless, and upgraded flooring are expected this may be a good upgrade. Spend dollars wisely that will result in "Wow" and return $$.
If you have not used or touched something in a year, consider donating or getting rid of the "stuff". De-cluttering can make the average home look outstanding. We want the potential buyer to "dream" how their furniture would look in the home. If in doubt about your stuff, just box it and put in storage. Otherwise, it is simple – "just do-it" and donate items to charity for someone's benefit.
Deep cleaning. Regular cleaning is not deep cleaning. Deep cleaning includes removing cob webs, washing baseboards, cleaning cabinets, scrubbing floors, tubs, showers, toilets, sinks, countertops and more. It needs to stay that way through the selling to closing process.
Paint is cheap but often can yield tremendous benefits. Spackle any holes for painting. Freshly painted outside trim, front door, garage doors, staining fencing, adds to the curb appeal. Inside neutral paints present a clean and pleasant atmosphere. New paint on trim work makes a room shine. See how the right paint color can help you sell a home.
Pricing the home may be the most important thing the seller can do. Overpricing may result in less showings plus decrease the amount of buyers in the price-range pool. Keep emotion out of the pricing and let the REALTOR® explain the "comps" and market activity. See why overpricing is a detriment.
Summary: Price the home properly and do as much as possible to make your home stand-out from all others in the neighborhood or area. Move-in ready is a huge plus for buyers. Price and condition make all the difference for successful selling.
Dennis Blackmore REALTOR®/Agent Owner with Creed Realty Virginia Beach is a Retired Naval Officer specializing in residential re-sales, short sales, and military relocation buyers and sellers throughout Hampton Roads. Having graduated from the Accredited Home Staging he brings many common sense ideas to selling homes. Dennis can be reached at (757)-343-4949 and e-mail: homes(at)757re(dot)com.