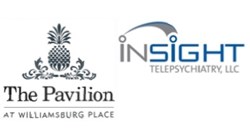 "InSight's services are another tool for our onsite staff to make sure patients at The Pavilion have around the clock access to the high-level care they deserve." --Chris Ruble ED at The Pavilion
Williamsburg, VA (PRWEB) August 29, 2013
Onsite staff at The Pavilion use phone consultations with remote psychiatrists to manage the care of The Pavilion's patients during times that The Pavilion's onsite psychiatrists are off duty or unavailable, typically after regular business hours and on the weekends.
The Pavilion at Williamsburg Place opened in April of 2012 on the established campus of Williamsburg Place near Historic Colonial Williamsburg, Virginia. The 57-bed inpatient psychiatric facility offers services based on principles of milieu therapy which provide a safe, supportive, and secure environment for individuals to return to a stable level of functioning.
Each individual is assessed by a team of professionals led by a psychiatrist to determine that they meet the medically necessary criteria for inpatient level care. The Pavilion runs programs for older adults ages 55 and over, for military personnel and dependents, for those suffering with mood disorders, and for those in need of acute care due to a psychiatric condition.
Patients may present symptoms including behavioral disturbances, severe depression with suicidal thoughts, anxiety, hallucinations, and delusions. A comprehensive discharge plan is collaboratively designed to ensure that each individual has the services and support they need.
InSight's providers are remotely available to consult on many steps of the care process. They help the staff at The Pavilion to fill STAT orders, give consultations regarding urgent medication orders, and give approval, review, or dismissal of admissions.
These services are provided primarily over the phone, but The Pavilion is also able to connect to InSight providers via televideo technology that allows providers and patients to see and speak with one another directly.
"With InSight, we are able to have a psychiatrist on call during our off hours. InSight's services are another tool for our onsite staff to make sure patients at The Pavilion have around the clock access to the high-level care they deserve," said Chris Ruble, Executive Director at The Pavilion.
InSight Telepsychiatry is a national service provider company dedicated to increasing access to behavioral health specialists.
"InSight gives facilities like The Pavilion unprecedented access to behavioral health care specialists. Many health care teams are understaffed and overworked, but with InSight, a psychiatrist can offer consult and expertise at any time," said Geoffrey Boyce, Executive Director of InSight Telepsychiatry.
In addition to the phone consultations, The Pavilion also benefits from InSight's Access Center which connects The Pavilion 24/7/365 to a live respondent who then manages the phone consultation from beginning to end. The Access Center manages the schedules and contact information of all on-call psychiatrists and acts as the central point for all documentation and information exchange.
The Campus of Williamsburg Place is home to The Farley Center, a nationally known addiction treatment center, and The Villages, semi-private living accommodations for individuals in recovery. All treatment is client-centered and designed to assist them in regaining control of their behaviors through participation in individual and group therapy, therapeutic activities, and psychopharmacology. Whenever possible family and significant others are involved to ensure a safe return to the community and to establish outpatient services needed as patients prepare for their transition back to community life.