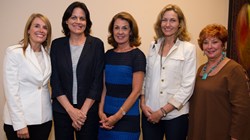 Yes, the film is shocking and provoking, but that's what we need to experience to see change happen."
Costa Mesa, California (PRWEB) August 29, 2013
Working Wardrobes, a nonprofit organization dedicated to providing comprehensive career readiness and life skills services to people overcoming difficult challenges, says its recent screening of The Invisible War documentary and expert panel discussion netted viable solutions to help stop the staggering number of violent sex crimes being committed among the nation's military personnel.
"The evening's documentary screening, commentary from CalVet, the panel discussion, and the intensity of feelings from our audience created a most memorable event for us," said Jerri Rosen, CEO/Founder of Working Wardrobes. "Yes, the film is shocking and provoking, but that's what we need to experience to see change happen. Our panelists spoke from front line experience that change is on the way. I am so grateful to Regina Kulik Scully, the film's executive producer, for her vision and tenacity in ensuring this story is told so powerfully."
The event was held August 15 at the Working Wardrobes Career Center in Costa Mesa, with more than 100 people in attendance to screen the Academy Award® Best Documentary Nominee and to listen to, and take part in, a panel discussion moderated by NBC4 Southern California's Vikki Vargas.
The evening kicked off with commentary from Lindsey Sin, Deputy Secretary for Women Veterans Affairs at the California Department of Veterans Affairs and a recognized authority on women's issues in the military, including Post Traumatic Stress Disorder (PTSD) and sexual assault and harassment, among others.
The impressive roster of panelists included Lt. Col. Tracy Abrams of Kaiser Permanente Orange County; Major General Megan Tatu of the 79th Sustainment Support Command in Los Alamitos; Patricia Lester M.D. of the Nathanson Family Resilience Center; Crescent Terry a former homeless U.S. Army veteran and survivor of military sexual trauma; and Honorable Judge Wendy Lindley of the Orange County Superior Court/Veterans Court.
Following are key highlights from the panel discussion:

The current system of reporting violent sex crimes, and the investigation and subsequent prosecution of violent sex offenders in the U.S. military, remains fundamentally flawed despite slight improvements in recent years.
Many military personnel continue to suffer backlash for reporting sex crimes, or refuse to report crimes at all for fear of backlash.
The underlying message of current military sex crime education places the responsibility of prevention on female soldiers, recommending they use a "buddy system" to protect themselves—a laughable approach to preventing sex crimes among service personnel, according to the panelists.
Expert recommendations from the panel discussion include:
Support initiatives that aim to remove Commanders from the reporting and investigation process altogether—personnel will continue to refuse to step forward until they feel safe enough to do so.
Appoint servicemen to positions of power based on character, and not on competency alone, to change the current military culture—one that arguably fosters the propensity for sex crimes versus prevents them.
Make counseling more widely available than it is now for military personnel who have been the victims of sex crimes, with mandatory counseling being the ultimate goal.
The Department of Defense estimates there were a staggering 22,800 violent sex crimes in the military in 2011 and that approximately 20% of all active-duty female soldiers are sexually assaulted.
Last year, with its ongoing commitment to veterans, Working Wardrobes launched VetNet, a safety net for veterans that provides career training and employment services for vets returning from war and struggling to overcome challenges such as PTSD, domestic violence, and addiction and substance abuse, which have led to drastically high unemployment and underemployment rates among veterans here in Orange County and across the nation.
About Working Wardrobes
Working Wardrobes is an independent nonprofit organization that strives to empower men, women, veterans, and young adults overcoming difficult challenges to confidently enter the workforce and achieve self-sufficiency. The organization provides career training, job placement assistance, and professional wardrobe services in an environment of dignity and respect.
Since 1990, Working Wardrobes has grown to serve over 60,000 men, women, veterans, and young adults overcoming difficult challenges including alcohol and substance abuse, prison re-entry, homelessness, catastrophic illness, and traumatic financial losses. It assists CalWorks recipients, clients of social service agencies, and individuals in 60 shelters or programs in Orange County, Los Angeles, San Diego, and the Inland Empire. The Working Wardrobes social enterprise model serves as an example of self-sustainability to organizations nationwide.
Working Wardrobes' current board of directors includes (in alphabetical order by last name): Ann Cairns, Cox Communications; Jeff Coats, Autobytel, Inc.; Anna Conrekas, US Bank; Vicki Dallas, Buchalter Nemer; Mandi Dossin, DGWB; Chris Dyer, People G2; Harry Humphries, GSGI, Inc.; Stephen Kelley, Health Essentials; Darryl Martin, Sentinel Offender Systems, LLC; Emily Reynolds, ADP; Jerri Rosen, CEO, Working Wardrobes; Kim Shepherd, Decision Toolbox; Linda Smith, Union Bank; Sandy Theriault, UPS; Patrick Tillich, Park West Landscape; and Mike N. Vo, Miss Professional Nail. # # #
MEDIA CONTACT
Peggy Goldwater Clay peggygc(at)workingwardrobes(dot)org
Working Wardrobes
714-210-2460