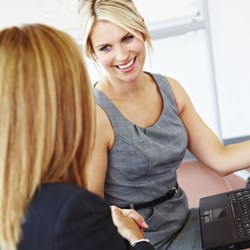 rosieMADE hopes the rosieNETWORK will assist in building a network of women committed to helping one another.
Boise, Idaho (PRWEB) August 30, 2013
According to the Economics and Statistics Administration (esa.gov), average sales for women-owned businesses are only 25 percent of the average sales for men-owned businesses. rosieMADE hopes the rosieNETWORK will assist in bridging this gap by building a network of women committed to helping one another.
The rosieNETWORK is available for anyone to search for women-friendly businesses. While many rosieMADE vendors and other American craftspeople are listed in the network, businesses offering services are eligible, too. The rosieNETWORK currently includes nationwide listings for stores, manufactures, publications, and businesses offering personal and professional services.
To be listed on the rosieNETWORK, businesses must meet one of the following criteria:

Be owned or co-owned by a woman
Have a female President or CEO
Have at least 50 percent or top managers that are female
When submitting company information to the rosieNETWORK, women have an opportunity to provide description of the company's products, services, and mission, as well as explain why the business qualifies for the rosieNETWORK. Both of these fields are visible to people searching the network so participants are encouraged to describe what makes their business qualify as women-friendly. The listing also includes the company's logo, contact info, and link to its website.
To create awareness and encourage women to use the rosieNETWORK to support other women in business, rosieMADE promotes the rosieNETWORK through its newsletter, social media, and a dedicated page on the website. The rosieNETWORK has also been mentioned in CEO Alicia Vanderschuere's contributions on other websites and blogs with national followings such as USALoveList.com, SheOwnsIt.com, and WomenOnBusiness.com.
The rosieNETWORK can be found at rosiemade.com/rosie-network.
rosieMADE is a woman-owned company inspired by Rosie the Riveter. rosieMADE offers a curated assortment of inspired, quality gifts in its Boise, Idaho store, as well as online at rosieMADE.com. All products are made in the USA by women-friendly companies and most are hand made or created using small batch techniques, resulting in outstanding quality. Additionally, rosieMADE.com serves as an online community for women-led businesses, featuring Real Life Rosies and offering the rosieNETWORK for women in business.