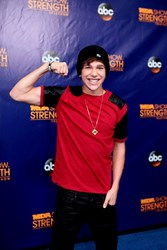 Tucson, Ariz. (PRWEB) August 29, 2013
Teen pop sensation Austin Mahone will make his first national television appearance since taking home the 2013 "Artist to Watch" award at the 2013 MTV Video Music Awards with a special performance on the 48th annual MDA Show of Strength Telethon, Sunday, Sept. 1, 9/8c, on ABC television stations across the country.
Maohne will perform his hit single "What About Love" during the Muscular Dystrophy Association's national broadcast. The 17-year-old pop sensation from San Antonio is still in the final stages of completing his as yet untitled debut for Chase Records slated for the fall.
Mahone also met with families affected by muscle disease, which included an exclusive interview with MDA's "blue" carpet correspondent Angela Wrigglesworth, a Houston elementary school teacher affected by spinal muscular atrophy (SMA), a genetic disease affecting the part of the nervous system that controls voluntary muscle movement. Click here to see their exclusive interview and learn why Austin supports MDA.
"I think it's amazing what MDA does to help people, like my new friend Angela, who are affected by muscle disease, and I'm honored to be a part of the telethon this year," said Mahone. "This has been an incredible month for me in my career, but my experience at the telethon was especially meaningful because it opened my eyes to the effects of muscle disease. Giving back to people is important, and if my involvement with the show can help raise awareness and funds for those living with these diseases, I'm happy to offer my support."
In addition to Mahone's performance, the 2013 telethon will feature a star-studded celebrity lineup, including: Ryan Seacrest; Backstreet Boys; country stars Luke Bryan, Darius Rucker and Lee Ann Womack; Enrique Iglesias; Paula Abdul; "Glee" star Matthew Morrison; hip-hop dance crew Jabbawockeez; "American Idol" runner-up Jessica Sanchez; Kenny Loggins with the Blue Sky Riders; American blues rock band Vintage Trouble; and Universal recording artist and star from "The Voice" Chris Mann.
Additional presenters for the 2013 show include: ABC's Dr. Richard Besser; "Dancing with the Stars" contestant and "Brady Bunch" mom Florence Henderson; Emmy award-winning journalist Jann Carl; Olympic gold medal gymnasts Nadia Comaneci and Bart Conner; and No Doubt drummer Adrian Young and his son Mason Young.
About MDA Show of Strength Telethon
The MDA telethon is one of America's longest-standing and beloved fundraising and entertainment events. For 48 years, funds raised by MDA telethons also have contributed to the organization's worldwide research program. Today, through current clinical trials, there is growing excitement that new lifesaving treatments and discoveries are on the horizon for many of the disorders MDA is dedicated to defeating, including Duchenne muscular dystrophy (DMD), spinal muscular atrophy (SMA) and amyotrophic lateral sclerosis (ALS).
As in the past, the entertainment event will raise funds and awareness to support MDA's mission to help children and adults affected by progressive and often fatal muscle diseases.
While the telethon has consistently enjoyed robust support from some of the biggest celebrities in show business, the real stars on the telethon are the individuals and families served by MDA.
MDA's first Labor Day weekend telethon was broadcast in 1966 on a single New York station and has become the most successful fundraising event in the history of television. The show, with Jerry Lewis as its iconic host through 2010, and with help from a legion of top celebrities and entertainers, has raised millions each year to provide life-enhancing support and services for the families MDA serves.
Visit mda.org/muscle to learn more about the 2013 MDA telethon.
About MDA
The Muscular Dystrophy Association is the world's leading nonprofit health agency dedicated to finding treatments and cures for muscular dystrophy, amyotrophic lateral sclerosis (ALS) and other neuromuscular diseases. It does so by funding worldwide research; by providing comprehensive health care services and support to MDA families nationwide; and by rallying communities to fight back through advocacy, fundraising and local engagement. Visit mda.org and follow us at facebook.com/MDAnational and @MDAnews.