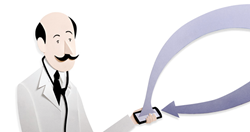 iOS 7 will help us to continue to give our customers what they want by enabling functionality that wasn't available in previous iOS versions.
San Francisco, CA (PRWEB) August 29, 2013
Fall is traditionally a season for change. Children go back to school, fashion magazines release their biggest issues and the leaves on the trees start to turn colors. It is a time for makeovers, and this fall, both Apple and pMD will be debuting new looks and some incredible developments with the release of iOS 7.
Apple has continued to revolutionize the mobile industry with its software and hardware, and iOS 7 will feature improved security, multi-tasking and more aesthetic and design freedom. pMD will be taking advantage of the new operating system's features with significant updates in its iOS 7 release.
pMD, a mobile charge capture app, allows doctors to access their list of patients and submit hospital and office billing charges and patient handoff notes securely through their smartphones. The software is easy to use for doctors of all technical aptitudes (and inaptitudes).
"Our customers demand that our software is beautiful, intuitive, and highly usable," said pMD CEO, Philippe d'Offay. "iOS 7 will help us to continue to give our customers what they want by enabling functionality that wasn't available in previous iOS versions."
Apps that want to use the incredible new features of iOS 7 will not be able to run on older versions of iOS or support older phones. iOS 7 will be supported on iPhone 4 and iPad 2 and later versions, requiring users of older iPhone and iPad models to upgrade their devices. If the iOS 7 upgrade behaves like previous iOS upgrades, the older supported devices will experience slower performance after the upgrade. In order to provide the best experience for their customers, pMD will continue to support the iPhone 4S and later versions of the iPhone, and it is strongly encouraging its customers to upgrade their phones to the iPhone 5.
iOS 7 "makes the things you do every day even easier, faster and more enjoyable" according to Apple's website. pMD will be reaching out to its customers using older iPhones so that they have an "easier, faster and more enjoyable" transition to iOS 7 and the new pMD this fall.
pMD's mobile charge capture software supports physicians by allowing them to enter their patient charges into Android, iPhone, iPad, iPad Mini and iPod Touch devices at the point of patient care. The patient visit is then visible to other doctors within the practice and can be billed immediately. Doctors using charge capture are increasing their ROI in a time where Medicare cuts, ICD-10, and other costs are significantly impacting profitability. pMD increases efficiencies in a practice through automation, and it provides free interfaces with most major electronic medical records, hospital information, and medical billing systems, including Allscripts Pro PM, Allscripts Tiger, athenaCollector by athenahealth (Athena), Cerner, Epic, GE Centricity (formerly Millbrook and IDX), MEDITECH, NextGen and Sage Intergy. For more information, visit pmd.com.