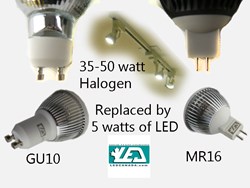 Forget paying $40-$50 per LED Bulb, LED Canada keeps price under$15 to help promote mass adoption
Vancouver, British Columbia (PRWEB) August 30, 2013
Traditional halogen track, spotlights, down lights and other common lighting can be easily and inexpensively upgraded to super-efficient LED Lighting.
LED Canada's new 5-watt COB LED GU10 and 5-watt COB LED MR16 are now available under $15 CAD.
MR16 seems to be a common household lamp, but in fact they are being phased out in favor of GU10. Both bulbs are nearly identical except MR16 requires a fixture with 12VDC transformer integrated, while GU10 connects directly to 110 vac (common household voltage) and have a "Twist-n-lock" base.
The popularity of these lights is contributed to the flexibility of these small bulbs and vast selection of fixtures, most notably the adjustable track light.
Unfortunately standard Halogen GU10 and MR16 bulbs have an average life span of 2,000 hrs and often do not even reach this goal. The first generation LED GU10 and MR16's were not particularly bright and often were in excess of $50 USD.
New Chip on Board (COB) LED technology now allows just 5 watts of LED to replace standard 50-watt halogen bulbs, reducing energy costs up to 80% without losing any lumen output (brightness).
Both bulbs come in either "Neutral" or "Warm" white.
The great thing is you won't need to replace these LED bulbs for over 5 years (of normal use), as they provide approximately 25,000 hrs., an electrical savings of over $112 during its lifespan.