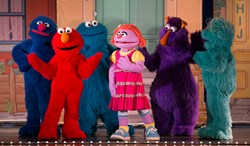 Since 2008, the tour has taken its message to more than 388,000 troops and military families, and performed 631 shows on 145 military installations in 33 states and 11 countries.
Arlington, VA (PRWEB) August 29, 2013
Just in time for back-to-school, the USO and Sesame Street extend their World Tour from October 24 to November 18 and add Guam and Hawaii to their eight-country lineup in hopes of helping America's military families. In addition to the expansion of the Sesame Street/USO Experience for Military Families – a free traveling show that focuses on the challenges that affect military families with young children – the organizations are offering tips to military families with kids starting a new school.
According to our friends at the Military Child Education Coalition, kids with parents in the military, move six to nine times during their preschool through high school education. Sesame Street and the USO know that change and relocating can be difficult for a young military child. They also know there are a lot of things children can pack and take with them when they move, but that friends, teachers, and caregivers aren't some of them.
To help get the conversation started and ease this stress, Sesame Street and the USO are bringing their character, Katie – a military child experiencing the stresses of moving as her parents are being transferred to a new duty station – to military installations around the world (including Guam and Hawaii in early November). Since 2008, the tour has taken its message to more than 388,000 troops and military families, and performed 631 shows on 145 military installations in 33 states and 11 countries.
As the school year begins, below are some simple tips to help military families transition to a new environment:
1. Always validate and reassure. Some kids might have trouble accepting unfamiliar people or events. Let them know that this is okay. Try a simple statement like, "Everyone has feelings, just like you." To help them adjust, point out things about the new place that are similar to your previous duty station and help them understand and appreciate the things that are different.
2. Establish an open communication with your child. Talking to your kids is the best way to know how they are feeling. Ask questions and foster an open dialogue where your child feels comfortable telling you that he or she is scared to go to a new school.
3. Sign-up your kids for activities and afterschool programs they find interesting. This is a great way for your child to find peers who have the same interests.
4. Make new friends and keep in touch with old friends. Reassure your child that it's okay to make new friends on base and that he or she can stay in touch with his or her old friends through letters, e-mails and drawing pictures.
5. Talk to school administrators and teachers and let them know about your child's anxieties. They can help pair-up your child with a buddy, who can show your child the ropes and help him or her feel more at home in their new school.
Keeping in touch with friends and family is a difficult task for anybody, but it is especially difficult for military families. Over the years, USO programs like USO Operation Phone Home, United Through Reading's Military Program and USO Photo Book have helped military families and their friends stay connected from all corners of the globe. Likewise, Sesame Workshop regularly provides an array of free resources and innovative tools for military families. Among Sesame Street's most recent resources are FamiliesNearAndFar.org, a bilingual website, and Sesame Street for Military Families mobile application that encourages elementary school-aged children to express their emotions and to communicate as they undergo challenging military transitions.
To learn more about the Sesame Street/USO Experience for Military Families World Tour or to check the tour schedule, visit http://www.USO.org/Sesame.
# # #
About the USO
The USO lifts the spirits of America's troops and their families millions of times each year at hundreds of places worldwide. We provide a touch of home through centers at airports and military bases in the U.S. and abroad, top quality entertainment and innovative programs and services. We also provide critical support to those who need us most, including forward-deployed troops, military families, wounded warriors and families of the fallen. The USO is a private, non-profit organization, not a government agency. Our programs and services are made possible by the American people, support of our corporate partners and the dedication of our volunteers and staff.
In addition to individual donors and corporate sponsors, the USO is supported by President's Circle Partners: American Airlines, AT&T, Clear Channel, The Coca-Cola Company, Grand Canyon University, jcpenney, Jeep, Kangaroo Express, Kroger, Lowe's, Northrop Grumman Corporation, Procter & Gamble and TriWest Healthcare Alliance and Worldwide Strategic Partners: BAE Systems, The Boeing Company, Lockheed Martin, Microsoft Corporation and TKS Telepost Kabel-Service Kaiserslautern GmbH & Co. KG. We are also supported through the United Way and Combined Federal Campaign (CFC-11381). To join us in this patriotic mission, and to learn more about the USO, please visit uso.org.
About Sesame Workshop
Sesame Workshop is the nonprofit educational organization behind Sesame Street, the landmark television program that reaches millions of children every day in more than 150 countries. The Workshop's mission is to use the educational power of media to help children everywhere reach their highest potential. Delivered through a variety of platforms, Sesame Workshop develops research-based content – including television programs, books, games, mobile apps and community engagement initiatives – that supports early childhood learning, helps prepare children for school, and addresses developmental needs. The Workshop's programs are tailored to the needs of specific regions and focus on topics that help young children and families develop critical skills for lifelong learning. For more information, visit us at http://www.sesameworkshop.org.