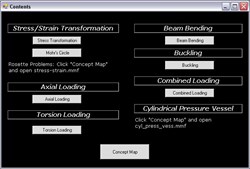 Ames, Iowa (PRWEB) August 30, 2013
Novices store information in a haphazard fashion, while experts store information in an organized, richly connected network. Actus Potentia's applied Concept Mapping tool shows the users the technique to become an expert problem solver.
Actus Potentia's Concept Mapping tool is different from other such tools in many ways:

Concept Map is dynamic and interactive.
Built-in solver engine does numerical calculations.
Logical search engine finds all possible paths leading to the solution of multistep problems.
Smart algorithm eliminates overlapping information and reduces cognitive load of problem solvers.
Built-in error checker verifies the sufficiency and contradiction in input data, and checks the uniqueness of the solution.
Graphical interface reports to the user when it can determine more than what the user has asked for.
User can pose and solve unlimited number of direct and inverse (design) problems.
Easy to link other applications, such as MS-Word and Excel, MATLAB, FORTRAN executables, with the solver engine.
Easy to link help files as images, text, or pdf-documents.
Easy to set-up as multi-user workspace for cooperative problem solving.
The most attractive feature of the Concept Mapping tool is its simple user interface that makes the learning curve short and users can become expert problem solvers with minimal effort.
The Concept Map tool in Mech-Mat, the software for Mechanics for Materials links the following concepts in a network designed for efficient, multistep problem solving.

Relationship among the elastic constants of a material.
Two-dimensional Hooke's Law.
Strain rosette
Stress transformation and principal stresses.
Strain transformation and principal strains.
Maximum shear stress and shear strain
Special cases of plane stress and plane strain
The user can solve unlimited number of problems that are typically assigned in a sophomore or junior level college-course on Mechanics of Materials at the universities in the U.S.A.

When the user runs the Concept Map software, a list of variables is displayed.
The user selects the known variables and selects one unknown, desired variable that the user wishes to determine.
When a solution to the problem exists, the Concept Mapping tool displays all the possible paths to the solution.
When possible path is selected, the Concept Mapping tool starts the solver engine.
The solver engine shows all the steps in a multistep solution procedure.
At the solver screen, the user can enter the numerical values of the known variables and the Concept Mapping tool determines the unknown.
The user can then step through all the steps and arrive at the final, desired solution of a multistep problem.