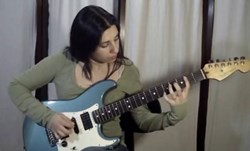 Los Angeles, CA (PRWEB) August 29, 2013
The riff begins with an arpeggiated C# minor 9 in a pattern reminiscent of the Police song "Every Breath You Take." It is followed in the same style with the chords A major 9, B minor 9 and E major 9. The chorus of the song is a simple rock pattern based on the chords A, D and E, then power chords F# and D, followed by a short C# minor-to-A major interlude and ending on an F# minor chord. Alejandra demonstrates the song at full speed, then at a slower tempo. Rhythm guitar tabs accompany the lesson.
The Police were an English rock trio formed in London in 1977. For most of their history, the band consisted of Sting (lead vocals, bass), Andy Summers (guitar) and Stewart Copeland (drums). The Police's mix of punk, reggae and jazz took them to global popularity in the late 1970s, with hits including "Roxanne," "Don't Stand So Close to Me" and "Every Little Think She Does Is Magic." The band sold more than 50 million albums, and thanks to a reunion tour, were the world's highest earning musicians in 2008.
Hear more of Alejandra Mesliuk's masterful playing on recordings by the progressive metal band Inventio and on her own projects, which include full helpings of her sweeping, string-skipping and tapping expertise. Enjoy and learn more from Alejandra and all the teachers at Guitarcontrol.com in dozens of free lead guitar lessons at http://www.youtube.com/guitarcontrol.
GuitarControl.com, a leader in online music education, is the brainchild of Philadelphia guitarist Claude Johnson. Since 2004, the site has offered lessons taught by virtuosos in styles ranging from rock, metal and blues to jazz, bluegrass and country to classical, flamenco and fingerstyle acoustic. Its many DVD courses, include Supercharged Soloing Made Simple (to be released Sept. 4), Larry Coryell Jazz, Wicked Chicken Pickin' Chops, How to Play Smokin' Blues Guitar, and Gospel Guitar, as well as courses for singers, drums, bass and keyboard, and music software, song collections and jam tracks.