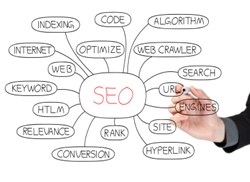 Creating effective online videos is one of McElroy's areas of expertise.
Boston, MA (PRWEB) August 30, 2013
This year, McElroy Films LLC used successful Search Engine Optimization (or SEO) strategies to rise in the ranks to Google's first results page, attracting clients to their video production service.
"The world has changed greatly in the last decade," said Benjamin McElroy, owner and executive producer of McElroy Films. "Now, my own business gets most of our clients through SEO and I no longer waste time on cold calling or print."
Since launching in 1998, Google has evolved into the number one ranked search engine site for web users. Not surprisingly, the Google owned video site Youtube, ranks second. Google's credibility can be attributed to the search engine's strict rules for processing and qualifying the relevancy and validity of websites. Google, like all search engines, is a program that relies on complex coding and algorithms to sweep the Internet for reliable information. Production company, McElroy Films is thriving as a result of Google's updated mission to purify marketing strategies and increase SEO with the use of online video content.
"We are lucky in that we are a video production firm," Ben mused. "That means when we create videos for our clients and then post them on our own site as portfolio material, it helps our SEO. Video is the ultimate draw for your site."
Businesses want to be seen frequently and on the first page of search results to optimize their website. In the past, SEO targeted sites with images, meaty content, backlinks, and high viewership but the company is reevaluating the significance of their SEO targets and paying attention to once underrated marketing tools like online video. Creating effective online videos is one of McElroy's areas of expertise.
"The team and myself have been shooting videos for corporations and non-profits for years," Ben explained. "We also watch videos other production companies create to stay on top of modern trends and to stay ahead of the curve."
The number one tool to optimize a website is online video, because statistically, websites with video are 53% more likely to land on Google's first results page. Google is attracted to the viewing and sharing of high-impact videos that are accurately embedded/linked to a site. According to a 2013 report from Invodo.com, 92% percent of people re-share mobile videos with others. Founder and president of McElroy Films, Ben McElroy recognizes the impact that video had on his SEO and aims to provide other people with the option to create meaningful online content.
McElroy Films trends on Google as the third most popular Boston Based production company. The award winning production house's clientele ranges from Honeywell to Mitsubishi, the Crohns & Colitis Foundation of America to Fenn School. With clientele varying from small to large businesses, and non-profits, schools, all looking to create online video content, McElroy Films is rapidly building a name for itself. This increasing success indicates that online videos are an SEO business tool worth reconsidering.
Click the link below and allow McElroy Films to SHOW rather then TELL you about the significance of online video content to your website.
McElroyFilms: Optimizing Business
ABOUT MCELROY FILMS
McElroy Films LLC is an award-winning producer of high definition video for corporate, educational, non-profit, wedding, music video, and independent film use. Serving the Massachusetts and New England area, McElroy Films' mission is to keep high definition video affordable without sacrificing quality. McElroy Films has assisted organizations throughout the Boston area increase their revenues and awareness by drawing in new clients and educating existing ones with concise, effective videos for the web and broadcast.