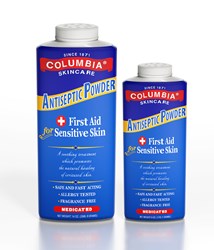 We have used variations of this formula successfully for over one hundred years!
New York (PRWEB) August 29, 2013
A new article reveals how Zinc oxide, one of the key ingredients in columbia antiseptic powder plays a key function in skin healing at the cellular level by accelerating the epithelialization of the skin (1).
Zinc oxide has been shown to prevent and heal inflammation, protect against the sun's dangerous UV rays, and is an effective eczema treatment, psoriasis treatment and helps to heal various skin injuries such as burns and irritation. Zinc oxide can also be used to heal wounds, and reduce the irritation of sunburns and chapped skin. People who are zinc deficient typically experience slower wound healing times, says Jonathan Moore, DPM. When zinc oxide is applied to a wound, it aids the body in providing the extra zinc skin cells need to repair. (3)
Columbia Skincare is taking the phrase "better than the sum of its parts," quite literally. With its meticulously formulated antiseptic powder, Columbia offers results superior to other medicated powders by combining zinc oxide with phenol. This is a unique blend of naturally occurring ingredients which are commonly used in other medicines but not commonly blended together.
The antiseptic properties of phenol were first championed by Sir Joseph Lister who was such a proponent that it became the first widely used antiseptic in surgery. Lister determined that phenol kills harmful bacteria and fungus that caused infection. Prior to his pioneering work, nothing was done to prevent infection after surgery. His studies were prompted by Louis Pasteur's advances in microbiology and showed phenol was safe to use, producing no ill-effects on the livestock that grazed upon fields treated with it. (3)
When zinc oxide is blended with phenol, a potentiation occurs which results in having a much stronger zinc oxide, ten-times stronger in fact. This stronger form of zinc oxide remains safe, just much more effective. Bacteria cannot develop a resistance to phenol, because phenol denatures the protein in the bacteria cell membranes. Bacteria do, however, develop a tolerance to antibiotic based powders. (4)

Phenol offers deeper penetration into skin layers, much deeper than antibiotics or iodine. (5)
Phenol has a local anesthetic effect that virtually all monographed bacteriostats do not have. (6)
Potentiation of the antibacterial effect of phenol occurs with the zinc ions from zinc oxide. (7)
Phenol kills bacteria with concentrations as low as 0.2 percent. (8)
Phenol has a safety record of nearly 200 years; considerably longer than antibiotics. (9)
Phenol cools and soothes rashes and skin irritations on contact. This minimizes itching to allow the skin to heal and prevent further infection caused by scratching. This soothing effect can be felt as soon as Columbia antiseptic powder is rubbed into the skin. (10)
Healthy skin provides a protective shield from irritants and infectious agents. Unfortunately, the skin's natural barrier may be compromised resulting in irritation, rashes or infection. (11) Columbia brand products offer a safe, effective and natural way to maximize the skin's ability to remain or become healthy.
"There is a big difference in effectiveness and safety among over-the-counter topical treatments being used today and our medicated powder," says company spokesman Steven Rosenfeld.
Columbia skin care products have been carefully developed & manufactured to address the needs of skin from both a restorative and a protective perspective. Their formulations use proprietary technologies and ingredients selected and manufactured exclusively in the United States since 1871. The regular use of Columbia Antiseptic Powder and Columbia Healing Cream skin care products has proven to be an effective way of maintaining healthy skin.
1. livestrong.com/article/134121-the-effect-zinc-oxide-skin/
2. en.wikipedia.org/wiki/Joseph_Lister,_1st_Baron_Lister
3. livestrong.com/article/138323-the-benefits-zinc-oxide-skin/
4. en.wikipedia.org/wiki/Antiseptic
5. Goodman and Gilman's – The Pharmacological Basis of Therapeutics, 4th Edition, Macmil lan, Philadelphia 1970
6. Cecil's – Textbook of Medicine, 20th edition, Saunders, Philadelphia 1994
7. Remington's –Pharmaceutical Sciences, 19th Edition, Mack Publishing, Philadelphia 1995
8. Guyton and Hall – Human Physiology and Mechanisms of disease, 6th edition, Saunders, Philadelphia 1997
9. The Merck Manual of Medical Information, R. Berkow, editor, Merck and Co., Whitehouse Station, NJ 1997
10. helium.com/items/2025739-medical-uses-for-phenol
11. mayoclinic.com/health/contact-dermatitis/DS00985/DSECTION=prevention