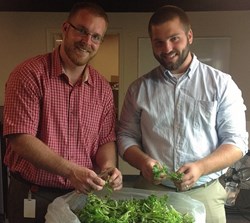 Bucks County – especially the Doylestown community – is filled with people committed to making healthy lifestyle choices. Veg-e Systems creates a very positive connection between educated consumers and a customer-focused business.
Langhorne, PA (PRWEB) August 29, 2013
Veg-e Systems, a Doylestown, Pennsylvania based startup, is growing fresh healthy greens to supply the local market year-round, backed with funding and business guidance from business incubator Novotorium, according to Stuart Segal, managing director of Novotorium.
"With Novotorium's focus on health, wellness and nutrition, we couldn't be more pleased to be funding and developing Veg-e Systems," Segal said. "Bucks County – especially the Doylestown community – is filled with people committed to making healthy lifestyle choices. Veg-e Systems creates a very positive connection between educated consumers and a customer-focused business."
Founded by Marine Corps Veteran Dennis Riling and Delaware Valley College senior Tim Sulzer, Veg-e Systems grows multiple varieties of lettuce, micro greens, kale and herbs hydroponically in environmentally controlled indoor vertical systems. Initially, Veg-e Systems will bring a substantial supply of fresh produce to Central Bucks County and nearby markets, and will then develop new hydroponic growing systems and expand to additional facilities in other areas.
"Over the past two years, we've been conducting research and development, and growing produce hydroponically indoors year-round, along with growing outdoors using traditional farming methods," said Riling. "The quality of the hydroponic greens has been consistently superior, and is also available for consumers regardless of weather conditions. We've made a decision to move 100 percent to indoor vertical hydroponics."
A Doylestown native, Riling has found the Central Bucks market to be very receptive to the local fresh greens he has produced to date, consistently selling out every indoor crop solely through word of mouth.
"Until now, we've been able to grow a relatively small amount of greens for a high-demand market. People like the fact that we can harvest lettuce and get it to their tables the same day it is picked, compared to a week or more for most other lettuce that is commercially available in our area," Riling said. "It's fresher, tastes better, has higher nutritional value, is grown free of herbicides and pesticides, is GMO-free, and does not require cross-country transportation. Significantly increasing production with Novotorium's support will help us meet market demand."
Veg-e Systems, which stands for Vertically Efficient Growing Environment Systems, is operating out of a 4,000-square-foot facility in Doylestown, and is currently ramping up for substantial production in the Fourth Quarter of this year. Limited amounts of select produce will be available in late September, with an increasing supply through the end of the year.
As production ramps up, Veg-e Systems anticipates providing fresh greens to local restaurants, supermarkets, specialty markets and direct to consumers via CSA-style subscription programs. Consumers wishing to receive email updates and information on food subscriptions may do so at http://www.VegeSystems.com.
The idea for Veg-e Systems was initially conceived by Riling, who researched and developed the business concept following a tour of duty with the Marine Corps in Iraq. After leaving active duty, he operated a metal fabrication business and a landscaping business, and managed a traditional farm while completing his undergraduate degree in horticulture at Delaware Valley College in Doylestown, where he is also coordinator of the College's Veteran Organic Farming Program.
It was at Delaware Valley College that Riling and Sulzer met. Sulzer, who began experimenting with hydroponics in high school, learned during college course work that not only was he interested in growing plants hydroponically, but also in the environmental benefits of hydroponics. Sulzer will graduate from Delaware Valley College this fall.
Together, Riling and Sulzer researched and developed hydroponic growing methodologies and formed Veg-e Systems. They learned of Novotorium as they were developing their business strategy and were beginning to seek funding to expand their operations. Novotorium began working closely with Veg-e Systems in May and closed on funding at the end of June.
As a business incubator, Novotorium invests in businesses and provides a range of services such as strategic guidance, advice from subject matter experts among Novotorium's partners and business planning services. Novotorium also offers access to tactical business resources such as a call center, a data center, technology development and marketing services.
Novotorium offers selected startups a sliding scale of initial investment amounts between $5,000 and $250,000, with Novotorium's equity position in startups based on business fundamentals rather than preset investment amounts and equity targets. In addition, Novotorium utilizes a variety of investment structures including preferred shares, common shares and convertible debt.
About Novotorium
Novotorium provides a full range of guidance, support and services for health, wellness and nutrition startups, helping entrepreneurs grow their businesses from Concept through Sustainable Operations, and every stage in between. Novotorium is conveniently located in Langhorne, Bucks County, Pennsylvania, in the Philadelphia suburbs with easy access to New York, New Jersey and the entire Philadelphia area. Novotorium accepts applications from health, wellness and nutrition startups on a rolling basis. For more information about Novotorium, please see the company's website http://www.Novotorium.com.