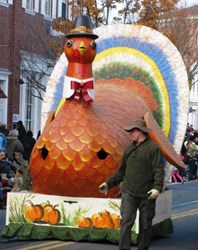 Thanksgiving is a great opportunity to share quality time together creating family memories. It is all about blending the good stuff.
Tampa, FL (PRWEB) August 30, 2013
Thanksgiving family traditions have the potential to bond generations nurturing love and creating lasting memories. The short recess from mandatory tasks and complicated schedules is an opportunity to bridge generational gaps but to maximize its value takes planning.
Traditionally, it is a time to enjoy a meal surrounded by loved ones, and maybe stroll through the woods or along a boardwalk. It is the season to sip hot cider and taste luscious gingerbread. But is that all?
According to Nancy Nelson-Duac, Curator of the Good Stuff for the popular travel planning website, "It is not too early to make a plan and create new family traditions, after all for children anticipation is a big part of the experience."
She goes on to say, "With a little planning, Thanksgiving is a great opportunity to share quality time together creating family memories. It is all about blending the good stuff."
Thanksgiving provides the chance to slow down and find time to give thanks for what is good and worthwhile. The ideas featured include traditional iconic locations and simple celebrations as well as quirky options ideal for a family gathering.
From the Hometown Thanksgiving Parade and Celebration in Plymouth, Massachusetts to Philadelphia's awesome Thanksgiving Day Parade the season promises to be lively. Join a harvest dinner at Plimoth Plantation or talk with colonists preparing a 17th century feast at Jamestown Settlement. Go on a walnut hunt at Woodloch Pines Resort in Pennsylvania or dine with lumberjacks in Pigeon Forge, Tennessee. Spend the day at Monterey Bay Aquarium and dine by the sea or sample bison meatballs at Terry Bison Ranch near Cheyenne, Wyoming. Wave at Teddy the Turkey during Chicago's launch of the holiday season or look for larger than life cartoon characters keeping pace at Houston's Thanksgiving Day Parade.
The Thanksgiving holiday suggestions are part of the "Away for the Holidays" vacation planning folder which includes hundreds of family vacation ideas to inspire parents and family members to getaway together and share the good stuff.
More terrific family vacation ideas may be viewed at theFamilyTravelFiles.com or for the latest family travel news follow The Family Travel Files on Twitter (@FamTravelFiles) straight from the homepage.
About theFamilyTravelFiles.com
Founded in 1998, theFamilyTravelFiles.com researches and posts the good stuff making it easier for parents or grandparents to plan great family vacations. The top-rated online family travel resource offers more than 1000 pages of family vacation ideas and trip planning information. The website specializes in destination and planning information, family travel advice, and family travel deals. The site features a number of vacation idea folders including the newest – Ren Faires, and popular favorites - Secret Places, All Inclusive, Reunions, SnowPlaces, and Away for the Holidays.