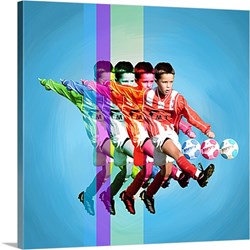 McKinney, TX (PRWEB) August 29, 2013
PaintYourLife, parent company of http://www.PopArtPros.com today announced the addition of a new editing style to their round-up of unique and exclusive pop art print styles. The number of incredible photo editing styles from PaintYourLife only serves to prove why this company is one of the fastest growing businesses in this market. The company has announced the new RGB style to add to their lineup, which introduces a range of colorful options for those looking for something a little less traditional and a lot more vibrant, exciting, and fun.
Customers who choose the RGB style for their photo print on canvas will receive an incredibly stylized piece that imposes part of the original image with mirror images that have been reduced to their primary color components. This can make an ordinary photo fresh, new, and exciting, and can transform an already great photograph into something truly extraordinary. This style is a contemporary take on the traditional pop art styles of the mod era, popularized by artists such as Andy Warhol and Roy Lichtenstein. That makes it great for those who love the colors of these great pieces but who are looking for something a little bit more stylized and up-to-date.
The professionals at http://www.PaintYourLife.com will work with the customer to give them exactly the art piece that they want. This many include everything from choosing a background color to determining exactly which elements of the original photograph will make their way into the final product. These artists can even help buyers determine which of their photographs will make for the best pop art piece, as every work of art can begin with a free consultation if needed. Additionally, every editing job will be approved by the customer before the piece goes into production, which helps to ensure that every buyer gets exactly what they want, every time.
Combine that kind of customer service with the great pop art look of the RGB editing style and customers will have instant access to one of the greatest sources of art possible for their home, office, or other location. However, as they shop buyers should also be reminded that there are a multitude of other options available for them to choose from, including original charcoal drawings based on their photographs—something that are not available from many other custom art studios online.
A quick visit to http://www.PaintYourLife.com or http://www.PrintYourCanvas.com will certainly be enough to convince any buyer of the wide range of products that are available. New editing styles are being offered all the time, so potential customers can check back in every once in a while if what they are looking for is not available, or else they can send a direct email to a site representative to see what other editing options may be available to them. The process of purchasing great wall art has never been simpler than with the people at PaintYourLife.
About PaintYourLife
Since 2006 PaintYourLife has been the leading provider of online art products, and features one of the world's largest selections of canvas and art products. All products are designed by a team of professional graphic designers, and each product is created with the utmost quality and attention to detail. The site, which is a leader in the online art industry, has seen tremendous success because of customer and word-of-mouth referrals, and continuously works to develop innovative new ways to cater to an extensive range of needs.