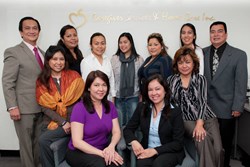 "Caregiver Services... Caring for Life"
Los Angeles, CA 90010 (PRWEB) August 29, 2013
Caregiver Services and Home Care Inc. http://www.mycaregiverservices.com will celebrate 'Staff Appreciation Day' on October 27 of this year as announced by its CEO Belina Calderon Tagarao commemorating the company's 10 years of operations. There will be surprise programme for the event and corporate direction for the coming year will be announced by CEO Belina like acquisition of a new corporation that can be part of BCT Group of Company and the Master Franchise System project for Caregiver Services and Home Care Inc. to further expand to different States all over USA. All of these plans are expected to be realized in the next 6 months to a year preparation, planning and implementation. There will be a group of senior care advisors, business consultants and franchise development group that will be hired in order to execute all plans effectively in the coming months. The internal organization within the BCT Group of Company will have executives that possess a business capability to collaborate with the Consultant group having their combined 40 years of executive and managerial experience in the field of healthcare, franchising, customer service, human resource, training and business development.
The senior population in the whole USA is expected to almost double from year 2010 to year 2030. California senior population ages 65 years and older from year 2010 numbered 4,392,708 and expected to grow to 8,288,241 population (Administration on Aging data). The Alzheimer's cases from 5 Million patients ranking 5th in the most common cause of death for seniors will grow to 16 million cases in the next 15 to 20 years should all other ongoing medication studies failed to address the disease. These are the underlying reasons for the company to continue its commitment to better serve the senior community as it had done for the past 10 years. California and all other States will need more reputable home healthcare providers, senior living facility and assisted living referral service company that can offer a professional service and approach in dealing with the insurmountable senior care problems in the next 10 to 20 years. This is where the BCT group of Company will come prepared to provide its contribution to the senior population for a long period of time.
During the 'Staff Appreciation Day' the company will announce the commitment to its 'Continuing Professional Education' program enhancing further the training modules to better prepare all employees and caregiver staff to be trained to the fullest degree of providing the best care at all times, being true to its service philosophy of 'Caring for Life'.
About BCT Group of Company headed by CEO Belina Calderon Tagarao:
Caregiver Services and Home Care Inc. (CS) http://www.mycaregiverservices.com is a premier In-home care service company that provides professional private care duty to seniors and adults requiring assistance in their home and healthcare needs for the past 10 years. The company is run and managed by healthcare Executives with local and international training with combined top level executive work experience of more than 40 years. CS is the only In-Home Care company that has its in-house 'Caregiver University' in Southern California area that provides professional caregiver training held at its Los Angeles head office. CS is a Certified Member of CAHSAH, California Association for Health Services at Home and operates in Los Angeles County, Orange County, Ventura County, San Fernando Valley, San Bernardino County and Santa Barbara County area. Free evaluation, call #213-351-9100 #805-338-8100, #310-779-6254, #818-561-6641 and #562-412-2420.
L.A. Jobs Employment Agency
The leading career and visa specialist in Los Angeles for foreign professionals. L.A. Jobs http://www.lajobsea.com provide more opportunities for international workers who are highly qualified professionals and competitive to be able to build their career in the U.S. The company had successfully placed hundreds of applicants in the past few years even during the period of recession and it had attained a high approval rate of H-1B work petitions and green card of applicants enabling them to take the path to citizenship through employment and live the American dream. The company aims to be the premier leader in the employment industry in the U.S. Visit for free consultation and look for Mari Reola, HR Manager and Pam Sison, Legal and Marketing Specialist or call at #213-351-9100.
Summit Medical Billing
A fast growing Medical Billing company that helps physicians and other medical and healthcare companies obtain payment from insurance carriers and patients by effectively handling insurance claims and aid them to manage their practice and finance side efficiently. Summit Medical Billing aims to establish a strong alliance with the American Medical Association and continue to provide help to their members increase their revenue with the efficient handling by the company's billing expert. Call for free evaluation and consultation at #213-351-9100.