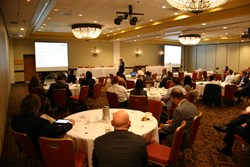 Foster City, CA (PRWEB) August 30, 2013
THEME: "MANAGING GOVERNMENTAL COMPLIANCE FOR GLOBAL QUALITY, SAFETY and RELIABILITY"
The issues and answers of Serialization, Big Data Analytics, Clinical Operations, Temperature-controlled Transportation and Cold Chain, Sourcing from Emerging Markets and Molecular Diagnostics Testing will be front and center at the summit of the world's leading community of biopharma supply chain management professionals on October 8 in Foster City, California.
HIGHLIGHTS OF THE CONFIRMED PRESENTATIONS
A Plenary Session For SCM and Three Tracks for Clinical Operations, Strategic Sourcing, Serialization, Emergin Markets, Molecular Diagnostics & Cold Chain.
SCM Executive Panel: "Industry 360° - Advancing the Efficacy and Integrity of the Biotech Supply Chain"
The subjects of supplier relations development, contract manufacturing and clinical trials management, governmental compliance, collaboration for efficiency, cold chain technology challenges, IT deployment, Big Data and analytics, integrity in the global supply chain, emerging markets and best practices from other industries will be discussed to generate solutions for the young biotech industry.
Moderator: Wayne McDonnell, Director of Advisory, PwC
Panelists:
Kevin Pegels, Vice President – Global supply Chain, Bayer Healthcare – Biotech
Mark Buck, Global Supply Chain and Procurement Leader, Bio-Rad
Rob Tenerowicz, Vice President, Supply Chain Management, Bio-Marin
Paul Anderson, Vice President, Global Procurement, Life Technologies
Richard Dawe, Professor, Ageno School of Business, Golden Gate University
Others: TBA
"CA ePedigree Law 2015: Call to Action!"
Presentation of game plan for adoption of California's e-Pedigree requirements for tracking prescription drugs to take effect on a staggered basis from January 1, 2015 until July 1, 2017. Enacted to safeguard the state's prescription drug supply, the law requires all owners and buyers of prescription drugs to append an electronically created and maintained record (or pedigree) to track every sale and purchase as the drug moves through the supply chain from the manufacturer through wholesalers to the pharmacy or physician.
Virginia Herold, Executive Officer, California Board of Pharmacy
"Leveraging Big Data and Advanced Analytics for Supply Chain Management"
A big-data revolution is under way in health care. Start with the vastly increased supply of information. Over the last decade, pharmaceutical companies have been aggregating years of research and development data into medical databases, while payors and providers have digitized their patient records. Meanwhile, the US federal government and other public stakeholders have been opening their vast stores of health-care knowledge, including data from clinical trials and information on patients covered under public insurance programs. In parallel, recent technical advances have made it easier to collect and analyze information from multiple sources—a major benefit in health care, since data for a single patient may come from payors, hospitals, laboratories & physicians.
David Wiggin, Program Director, Healthcare and Life Sciences, Teradata
"Supply & Distribution Disruption Risks: Assessment and Mitigation for the Virtual Supply Chain"
A comprehensive and systematic solution will be presented to determine the risks faced by a company, known and unknown, in the global marketplace of a drug owner/developer that has internal or external relationships with businesses providing research, clinical trials management, manufacturing, information technology and distribution services. Proven solutions will be provided to mitigate the risk and ensure the strategic growth of the IP holder with relevance to mid-sized and small companies. Friedhelm Lotz, Partner and Audit Practice Leader, Global Risk Experts AG
"The Global Network Service for Product Safety, Quality and Reliability"
Responding to the end-to-end Supply Chain initiative of the U.S. Food and Drug Administration, a network service solution will be presented to ensure product safety, quality and reliability in order to move from a posture of intercepting harmful products to anticipating and preventing the arrival of such goods in order to ensure maximum patient care in the world.
Shabbir Dahod, CEO, TraceLink
Panel: "Driving Serialization and ePedigree for Business Growth and Profitability"
Listen to experts from across the pharmaceutical distribution chain (manufacturers, wholesalers, pharmacies, third party logistics providers) as they discuss supply chain security. A distinguished panel will review current practices to track medicines, the California law on e-pedigree and efforts to establish a federal standard. Other topics to be addressed include patient safety, use of new technologies, and feasibility of requirements. Panelists will highlight these issues from their stakeholder perspectives to provide a comprehensive analysis of supply chain security issues.
Moderator: William Fletcher, Editor, Pharmaceutical Serialization Playbook
Panelists: Bethany Hoover, Dalton, Associate Director Supply Chaing Integrity, BioMarin
Others: TBA
"One Way or Another, Serialization and Track & Trace Will Transform the Pharma and Biologic Supply Chains"
Significant supply chain transformation is nearly upon us with serialization and track & trace regulatory requirements popping up here at home and around the globe. In just a few years, the value of pharmaceuticals and biopharmaceuticals in the supply chain will not only be determined by the price set by the manufacturer or payers, it will depend on how accurate and "clean" their documented supply chain history is. Without a clear supply chain pedigree, drugs and biologics will have no value. The maintenance and use of the new supply chain IT systems that will be needed to ensure that this documentation is not inadvertently lost or garbled will require new skills and great care. This session will examine some of the regulatory requirements and the problems that these new systems must address so that users will have confidence in the value of their inventory.
Dirk Rodgers, Founder, RxTrace & CEO, Dirk Rodgers Consulting
"Clinical Operations Management: Best Practices and Services for the Global Marketplace"
Presentation of how supply chain can support clinical development and help serve as a launching point for commercial success in the most economical and timely manner. Learn and share with your peers solutions and best practices to common challenges encountered in clinical supply chain. Hear how the experts perform forecasting, determine safety stock levels, manage inventory, reduce costs and lead times, satisfy labeling, packaging and cold chain requirements, and handle shipments to emerging markets. The IT Integration in the supply chain will be discussed.
Moderator: Amy Penticoff, Director, Clinical Supply Chain, Intarcia Therapeutics
Panelist: Elizabeth Gallagher, Director Global Logistics, Fisher Clinical Services
"Strategic Management of Suppliers: Maintaining Efficient Manufacturing Operations"
Learn how industry experts address the rationale, benefits and tools used to support the supplier management process, including: Managing Suppliers in Emerging Markets, Total Cost of Acquisition, Supplier Qualification, Life Cycle Management, and Measurement of Success
Moderator: Jim Latimer, Chairman, Strategic Sourcing Steering Committee, BSMA
Panelist: Rick Fultz, Managing Director, BIOCOM Purchasing Group
Mark Buck, Global Supply Chain and Procurement Leader, Bio-Rad
Paul Anderson, Vice President, Global Procurement, Life Technologies
Others: TBA
"Emerging Markets: Prescription for Sustainable Growth!"
Growing revenues in the Emerging Markets by overcoming the challenges of regulatory, commercial, and marketplace barriers on the supply as well as the demand side of the industry. Particularly for small and medium-sized biotech companies, expanding revenues from markets overseas remains a formidable challenge because of the knowledge gap.
Moderator: Vishal Singal, Vice President - Consulting, Optimal Strategic Group
Panelist: Shankar Suryanarayanan, Senior Director, Baxter
Others: TBA
"Molecular Diagnostics Testing Industry: An Overview"
The market for molecular diagnostics testing, projected to reach $14 Billion in 2014, is fragmented with more than 500 companies, where 98% of them could benefit from the best practices of supply chain management. Molecular diagnostic tools have a vast base of end-users, which includes hospital-based laboratories, reference laboratories, and others (physicians' labs, research laboratories, other healthcare clinics, and government agencies. The research will highlight the opportunities to achieve low product cost, high quality, compliance with governmental regulations, speed to market and customer service.
Mike Crowell, Sr. Director, Supply Chain Management, Verinata Health (Illumina)
Alan Wells, Vice President, Diagnostics Lab Operations, Life Technologies
PANEL: "Molecular Diagnostics Testing: Opportunities for SCM Efficiency!"
As scientists discover how to glean useful information from the human genome through sequencing and make that information clinically meaningful, this market will continue to grow rapidly from startup through to commercialization. These constituent would probably relish the opportunity to share the SCM tools and strategies used in this area. As you may know, the needs of a molecular diagnostic companies' supply chains are just as critical to its success as it is to a larger pharma/biopharma commercial organization, but in many respects the strategies that are emerging are different from big pharma, or biopharma' s needs (think a service delivery model supply chain vs. that of a drug manufacturer or distributor).
Moderator: Alan Wells, Vice President, Diagnostics Lab Operations, Life Technologies
Panelists: Glen McHenry, Sr., Manager, Supply Chain Group, Monogram Biosciences
Susan Jiang, Supply Chaing Supervisor, VErinata Health, Inc., (an Illumina company)
Karel Hurka, Jr., Sr. Manager Supply Chaing, Genomic Health
Others: TBA
Case Study: "Managing Your 3-PL Partner"
Now that you have selected a partner – defined the kit and done the data dance to share addresses for deliveries, How do we manage this relationship? How do we keep our customers – internal and external happy? How do we ensure the 'bang-for-the-buck'?
Meserve Platt, Associate Director Materials / Facilities, Crescendo Bioscience
Case Study: "Drum, Buffer, Rope"
Using a pull based inventory replenishment model for variable process environments where Push/MRP does not easily fit.
Mike Crowell, Director Supply Chain, Verinata Health (Illumina)
Case Study: "Rightsizing Your Client's Kit Inventory"
Demonstration of tools that can help diagnostic companies ensure that their clients sites have the right amount of sample kits ready for use at the right time.
Arbi Harootoonian, Vice President, Business Development at Therapak Corporation
PANEL: "Temperature-Controlled and Cold Chain Supply Chain: Proven Technologies and Practices for Compliance"
Deployment of the emerging temperature-controlled logistics and cold chain technology, manifesting from end-to-end of the supply chain, requires packaging engineering standards, business processes, information systems and monitoring mechanisms. The stakeholders will discuss the pitfalls and present a blueprint for the manufacturing, logistics and distribution of temperature-sensitive materials and finished products globally.
Moderator: Douglas Wettergren, Regional Sales Manager, Envirotainer
Panelists: Sophia Sharp Donaldson, Baxter Bioscience
Gary Hutchinson, CEO, Modality Solutions
Others: TBA
About BSMA
Bio Supply Management Alliance (BSMA), which organizes the Conference, was born of the need to create a worldwide community of operations and supply chain management leaders and professionals in the biotech, biopharma and medical diagnostics testing industries. The Alliance provides a forum for collaboration, learning and best practice sharing of practitioners, executives and thought leaders in these uniquely demanding industries.