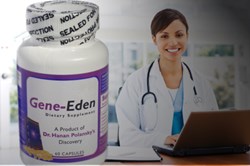 It's really gratifying that we were successful in both developing a natural product, and in proving that it reduces genital herpes symptoms safely and effectively. - Mike Evans, polyDNA
Rochester, NY (PRWEB) August 29, 2013
polyDNA announces that a new clinical study has provided evidence for the safety and effectiveness of Gene-Eden-VIR in the treatment of genital herpes (HSV) (1). The study was published in the peer reviewed, medical journal Pharmacology & Pharmacy, in a special edition on Advances in Antiviral Drugs.
Study authors wrote that, "individuals infected with HSV … reported a safe decrease in their symptoms following treatment with Gene-Eden-VIR (1)." The study authors also wrote that "We observed a statistically significant decrease in the severity, duration, and frequency of symptoms (1)."
Other oral treatments for genital herpes have a limited effect. Studies show that they reduce symptoms by only one day. For instance, according to a study published in April of 2004 in the Annals of Pharmacotherapy, "Treatment with oral antivirals decreases the duration of (genital herpes) lesion episodes and pain by approximately one day; however, the antivirals do not abort lesions from developing (2)." In fact, "The meta-analysis showed that oral antiviral therapy decreases the duration and the associated pain of an outbreak by merely one day (2)." These treatments include penciclovir, acyclovir, famciclovir, and valaciclovir.
Moreover these treatments are associated with serious side effects. For example, The American Journal of Therapeutics on March 22, 2013 noted that, "Serious neuropsychiatric side effects have been demonstrated with the use of valacyclovir (Valtrex)…." (3) In addition, Drugs.com says on its website that, tremor, visual and auditory hallucinations, confusion and coma are neuropsychiatric side effects, and all have been associated with the use of Valacyclovir (4).
In contrast, Gene-Eden-VIR was shown to safely reduce genital herpes symptoms with no side effects. In fact, study participants "reported no side effects after taking Gene-Eden-VIR (1)."
Mike Evans of polyDNA said, "We believe in effective, natural products. This is a field of research that has many opportunities we feel should be explored. It's really gratifying then that we were successful in both developing a natural product, and proving that it reduces genital herpes symptoms safely and effectively in a clinical study that followed FDA guidelines."
To view the entire paper, visit: http://www.scirp.org/journal/PaperInformation.aspx?PaperID=36101
We invite the media to contact us for interviews at: info(at)buy-gene-eden(dot)com or phone 585-250-9999.
###
References:
(1) http://www.scirp.org/journal/PaperInformation.aspx?PaperID=36101
(2) http://www.ncbi.nlm.nih.gov/pubmed/14966254
(3) http://www.ncbi.nlm.nih.gov/pubmed/23528373
(4) http://www.drugs.com/valacyclovir.html
polyDNA is a biotechnology company that develops dietary supplements using the unique scientific method developed by Dr. Hanan Polansky, which is based on Computer Intuition.
In addition to his unique scientific method, Dr. Polansky published the highly acclaimed scientific discovery, called Microcompetition with Foreign DNA. The discovery explains how foreign DNA fragments, and specifically, DNA of latent viruses, cause most major diseases.
polyDNA developed Gene-Eden-VIR, an antiviral natural remedy that helps the immune system kill latent viruses.