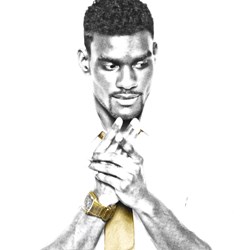 Did he set us back? No. Do we get set back when we attempt to crucify those who speak out in our defense? Possibly.
New York, NY (PRWEB) August 29, 2013
Hailed as an underground phenomenon, gay rapper and lyricist LastO signs with SolRay Records and releases a statement regarding Macklemore's Sunday night MTV VMA win and acceptance speech for his song, "Same Love". Having been an openly gay rapper since 2008, LastO acknowledges recent advancements in Hip-Hop with regards to acceptance, but reiterates the tedious work that still lays ahead. LastO had this to say:
"I will just be honest. I want to sound off on Macklemore's VMA win and the hub-bub surrounding 'Same Love'. I will tell you that when I first approached music, there were no 'mainstream' affirmations for an openly gay rap artist or openly gay anything with regard to rap music. I am pre-Frank Ocean, pre-VladTV 'Could there be an openly gay rapper?' interviews, pre-'athletes coming out via CNN', etc. And so what I look at is the larger trend -- and it is unmistakably a trend toward progress. Progress often doesn't move as quickly as some would prefer. But microwaved progress often skews toward facade. Did Macklemore profit from our cause? Yes, he did. Do I personally care whether he was genuine or not? Not really.  Did he set us back? No. Do we get set back when we attempt to crucify those who speak out in our defense? Possibly."
Compared to the likes of Jay-Z for his lyricism and flow, LastO is set to close 2013 with the release of his highly anticipated debut album, Where's Vivian? courtesy of SolRay Records. The album, a tedious labor of love which took three years to craft, boasts an impressive 16 tracks. A music video is set to be released via VEVO in late October, while the album is slated for November.
While putting the finishing touches on his album, LastO took time to lend a verse for a remix to label mate Wilson Knight's song, "Stable Ground". Sampling Diana Ross and The Supremes, the remix features a stellar verse from LastO, along with Complex Magazine's recently praised Baltimore rapper DDM and Los Angeles' FLYKINGi. The remix is set to be released in a few weeks.
Since 2009, LastO (Last Offence), has been building a repertoire of music that stretches the limits of what his genre will allow. Born in Saint Louis, the young emcee only dabbled in rap music at first, but once relocated to Los Angeles, he found it impossible to ignore the urge to be heard. By October 2008, LastO debuted with the groundbreaking Run A Lap (EP) most famous for cult-status hits, "So Magical" and "Hello Boyz". By March of 2009, the emcee was already offering a darker, grittier and overall more refined follow-up, "Not For Non-Profit." Credits include: OutHipHop.com "New Artist of the Year 2008" and "Best Non-Album of 2008" for Run A Lap. QUEERTY.com's "Top 5 Black Homo-Hop Artist to Watch For" in 2009. Quoted in SPIN Magazine, L.A. Times and featured on DJ KaySlay's Shade45 Radio Show. He was also recently interviewed on NewNowNext.com. LastO currently lives in New York, where is is set to release his debut album, Where's Vivian?
For more on LastO, please visit:
Facebook: http://www.facebook.com/LastOHQ
Twitter: http://www.twitter.com/lasto
YouTube: http://www.youtube.com/LastOTV
Bandcamp: http://lasto.bandcamp.com